The most well-known benefits of SAFe, Scaled Agile Framework, are increased efficiency, improved collaboration, reduced time-to-market, and greater customer value. But, what if you have implemented SAFe and are not seeing these results? Serge Beaumont, Principal Agile Consultant & Trainer at Xebia, shares what often goes wrong and how to turn the tide.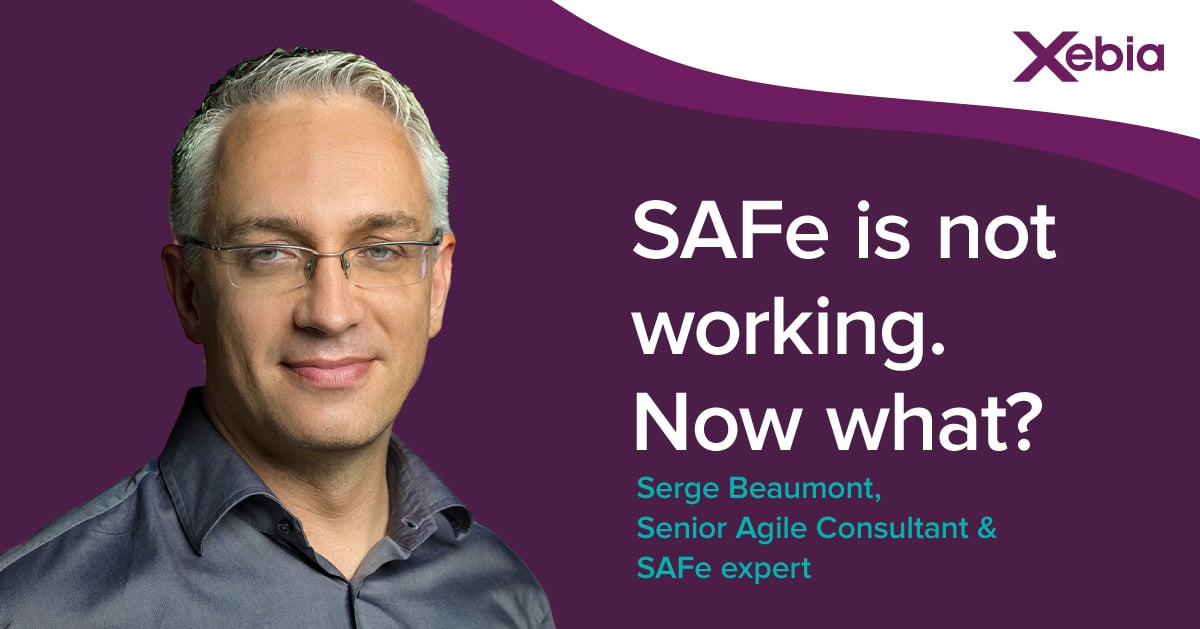 "The promise of better and faster collaboration is not always realized within companies. Instead, chaos occurs. One of the main reasons for this is a failure to implement SAFe fully. The Scaled Agile Framework requires companies to replace traditional (project-based) ways of working with new roles and new collaboration methods. This has proven to be challenging for many businesses." - Serge Beaumont. Serge advises companies where SAFe is failing to look at their teams, Product Owners, and Scrum Masters.
TEAMS
Serge emphasizes the importance of autonomy over coordination: "Many companies get stuck in traditionally coordinating activities. Even after implementing SAFe, there is still a classical team division based on function; everyone with the same role belongs to the same team. As a result, going through the entire production process, still requires laying a puzzle and working with multiple teams. A cross-functional design, on the other hand, ensures that one team can autonomously take the next step in the process, without delay."
PRODUCT OWNER
"The Product Owner role is not easy," Serge says. "To perform this role well, you need time, authority, and the right education. In 90% of cases, the PO role fails because the basics aren't in place. For instance, creating a good backlog is essential, as this is the foundation for collaboration. We often see that the backlog becomes a to-do list where activities are planned per individual, limiting the value you can deliver as a team," Serge explains. On a higher level, he sees companies that still work according to a 'directory structure.' Work is divided into categories, such as front-end tasks or back-end responsibilities, and the benefits of SAFe are not maximized.
SCRUM MASTER
SAFe tells you how to work Agile on a larger scale and with multiple teams. Serge says that many companies struggle to make this work: "Delivering per team is already a challenge; a group of teams only adds to that. Every part needs to fall in place, which requires Scrum Masters to be more than 'ceremony masters' hosting stand-ups and retrospectives. As a Scrum Master in a SAFe environment, your job is to aggregate valuable information from teams and flag systemic issues, giving management clear insight into how they can contribute to improvement. Management needs to be aware of what is going well and what is not going well to make the right changes." According to Serge, Scrum Masters can obtain these insights by looking at the (digital) post-it wall, checking whether teams are in sync, and finding correlations together with the Product Owners. Finally, Serge advises Scrum Masters to delve into Lean techniques such as root-cause analysis to solve problems instead of symptoms.

The 3 'quick wins' for a successful SAFe implementation:
A sound, autonomous, product-oriented team structure in which cross-functional teams work towards something independently and with a defined purpose.

Backlogs, backlogs, backlogs! Go back to the basics and make sure POs know what a good backlog is - not an activity list per team member. A good backlog offers the foundation needed to rebuild SAFe.
Scrum Master synchronization. Bring Scrum Masters together to share insights and solve problems with each other, inform management about challenges and propose the right solutions.
Want to learn more?
Article: SAFe and (Lean) Portfolio Management
Article: Pitfalls of Lean Portfolio Management
Do you want to learn more about SAFe? Gain insights in your SAFe Learning Journey and get Certified!

Certified Leading SAFe (for you who are leading the SAFe Transformation)
Certified SAFe for Teams (for team members)
Certified SAFe for DevOps
Certified SAFe for Scrum Masters
Certified SAFe for Product Owners/ Product Managers