Some people may think we no longer need managers in this Age of Agility, but I strongly disagree. Without capable Agile leaders, we'll never manage to break free from the chains that bind us to the old world. But how do leaders learn how to lead in this new world?
Leading in the New World
So far, we still only have a limited knowledge of what a genuinely Agile organization looks like. Only a handful have managed to succeed, but that number is growing. VersionOne's 12th Annual State of Agile Report shows Agile adoption across enterprises is reaching a
significant 25 percent in 2018, compared to last year's 8 percent.
The report attributes in-house Agile coaches, consistent processes, and standardized tools across teams to the rising success, and flags cultural alignment, change-resistance, and managerial support as ongoing challenges. The most critical finding, however, is an
incapability among Agile leaders to develop a culture of flexibility, support, and ownership.
Genuine Agile organizations require leaders that create environments where teams can grow. These leaders prepare their team, business, or organization for disruption and unpredictability. How? They replace plans and execution with shared values and principles, compliance with motivation, and practices and tools with support, knowledge, and opportunities.

This article is published in
. Agile NXT is a new magazine full of inspiration for professionals on the emerging Agile journey. It challenges you to think differently and improve yourself, your team, and company a little more each day.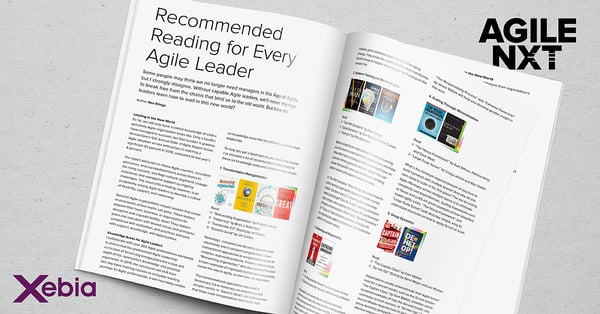 Knowledge Areas for Agile Leaders
I collaborate with over 250 Agile professionals worldwide to ensure that the professional Agile leadership curriculum of Scrum.org encapsulates the scope and depth of the community's knowledge and practical experience. In 2019, the curriculum will shift from two-day basic training courses to complete learning journeys for Agile professionals. It will most likely contain six knowledge areas that are critical to successful Agile leadership.
To help you get a head start on your leadership journey, I've included a list of recommended reading linked to these six knowledge areas and a brief summary of each.
1. Transformation Reorganization
Read:
"Reinventing Organization" by Frederic Laloux
"Holacracy" by Brian J. Robertson
"Sociocratie 3.0" (Dutch) by Jef Cumps
"Good to Great" by Jim Collins.
Nowadays, companies are forced to operate under uncertainty and in constant reorganization. Linear, transactional approaches to reorganization cannot fix complex, real-world problems. Frederic Laloux's book, "Reinventing Organization," describes some of the best-known examples of organizations that have successfully paved the way to agility, so start here, for inspiration.
The transformational approaches described in Sociocracy 3.0 or Holacracy are evolutionary and
people-centric. In "Good to Great," Jim Collins proves that large-scale reorganizations don't really work. Instead, great companies don't focus on managing change. They create the conditions that allow transformational change to happen automatically by focusing on the people first.
2. Systems Thinking and Mental Models
Read:
"The Fifth Discipline" by Peter Senge
"Spiral Dynamics" by Don Beck and Chris Cowan
"Theory U" by Otto Scharmer
Before preparing an organization for optimal learning, you first need to understand how people learn and think. What effect does a change in the environment have on a person's thinking process and vice versa? You can answer this question once you know how a thinking
pattern evolves and impacts human behavior.
In "The Fifth Discipline," Peter Senge describes how to build a learning organization based on human mental models. Don Beck and C.C. Cowan build on develop­mental psychologist Clare W. Graves' work to introduce eight complex value systems that shape the preferences of human mental models in their book, "Spiral Dynamics." In "Theory U," Otto Scharmer provides a method to turn unproductive patterns of behavior into ineffective patterns of decision making.
3. Ownership and Responsibility
Read:
"The Responsibility Process" by Christopher Avery
"Extreme Ownership" by Jocko Willink and Leif Babin
Responsibility and ownership are mental processes, rather than mere traits, that work similarly among people. When coaching towards more responsibility, you need to understand the mechanism behind it. An Agile leader should be able to unlock these processes not only within themselves but also within others. Christopher Avery's "The Responsibility Process" and "Extreme Ownership" by Jocko WIllink will help you develop greater insight in this area.
4. Scaling Through Minimalization
Read:
"The Nexus Framework" by Kurt Bittner, Patricia Kong, and Dave West
"Large-Scale Scrum" by Craig Larman and Bas Vodde
What is the minimum required amount of structure to build a product with multiple teams? And why do you even need to scale in the first place? The key to scaling Agile effectively across multiple teams is to eliminate complexity and dependencies. Scaling frameworks such as Nexus and LeSS are good examples of how simplified, scaled agility looks. "The Nexus Framework" and "Large-Scale Scrum" both describe simple, easy to understand structures on how to apply Scrum at scale.
5. Group Dynamics
Read:
"The Captain Class" by Sam Walker
"De Hei Op!" (Dutch) by René Meijer and Lex Mulder

Organizations usually underestimate their Agile teams' need for a servant leader, such as the Scrum master. "The Captain Class," by Sam Walker, provides world-renowned examples of how the servant leader role contributes to team success. In "De Hei Op!," René Meijer and Lex Mulder describe how to look at a team from a group dynamics perspective and create long-lasting and effective interventions.
6. A Culture of Creativity
Read:
"Creativity, Inc." by Ed Catmull
"I Wish I Worked There!" by Kursty Groves
"Managing for Happiness" by Jurgen Appelo
The best way to manage complexity is to create a culture that stimulates creativity. The books listed in knowledge area six emphasize how employee happiness leads to amazing results.
While Kursty Groves captures the interior of many creative and successful companies in "I Wish I Worked There!," Ed Catmull explains how he created an environment at Pixar to make this happen in "Creativity, Inc." In "Managing for Happiness," Jurgen Appelo provides a rich toolbox to draw from in forming creative work environments
Agile Maturity in the New World
Organizational leaders can measure their organization's current maturity on a 5-level scale:


Although the respondents probably didn't use this model when describing their maturity level, The VersionOne survey data suggests that organizations are caught at level one or two. Usually, a three-level maturity (minimum) is necessary for daily complex problem-solving.
However, armed with the knowledge gleaned from reading up on the six critical areas, new world Agile leaders can transform cultures of level one followers into level five leaders.
Are you curious what your next step is in Agility? Book your ticket for AGILE NXT Future Friday and get inspired in your next steps in Agility in 1 day!