Agile is a buzzword these days. Many organizations work to become "Agile" so they can implement "Scrum," another buzzword. But what is real agility? Here's the story of a company that exemplifies it, and it doesn't mention either buzzword once.

Who or What is Hans Boodt?
Hans Boodt Mannequins (founded by its namesake) manufactures high-quality, custom-made, bespoke mannequins for the show floors and windows of the top clothing and sports brands worldwide. The mannequins' materials, shapes, and postures are unique to each customer - a tall order in the increasingly fast-paced fashion world. A company like Hans Boodt can only operate in this world by being extremely flexible and listening very carefully to what the customer wants.
This article is published in
. Agile NXT is a new magazine full of inspiration for professionals on the emerging Agile journey. It challenges you to think differently and improve yourself, your team, and company a little more each day. Written by Theo Gerrits and Just Meddens.
What are Hans Boodt's challenges?
. The cost (in time and money) of building prototypes for the final product.
. The time interval before real customer feedback can be collected.
. The costs (in time and money) of fabricating the molds for the final product.
These challenges are all about speed and flexibility: how can we get to a first prototype faster, so that we can improve speed and quality of customer feedback, and how can we rapidly convert this feedback into high-quality, completely custom-made end-products?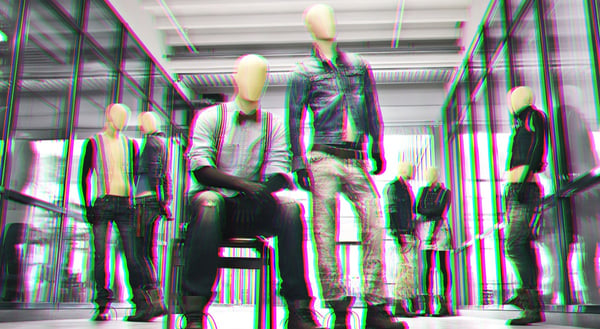 How Does Hans Boodt Meet These Challenges?
To keep up with the rapid pace of the fashion industry the company had to transform. It could no longer wait six weeks for the hand-made clay proto­types from professional modelers as it had in the past. They needed customer feedback much sooner. If the customer only wanted a simple revision, it often meant creating a whole new prototype, because the ad hoc alteration of an arm or a leg would look to unnatural. Hans Boodt had to find a way to speed up this process; it was too costly and time-intensive.
The company looked for other proto­typing methods and discovered that it was possible to print life-size mannequins with commercially available 3D printers. However, there were some downsides. The 3D printers were prone to errors, still took several days, and were very expensive. But Hans Boodt Mannequins decided to take a chance on the promising technology. They're now working on improving its speed and accuracy so they can eventually produce 3D-printed life­size models daily. This will significantly speed up the rate of their customer feedback and they will also be able to incorporate any revisions into a new prototype within 24 hours. Hans Boodt is now also using "virtual" prototypes to gain even faster customer feedback. An augmented reality app built for the iPad allows its customers to download an electronic model and place it virtually in their own shop windows.
Once the prototype is perfect, the final mannequin must be produced through another, intensive process that takes weeks, particularly fabricating the molds. Here, too, progress has been made in streamlining this process through 3D printing. And, since a model can be sent digitally, there's an opportunity to install a 3D printer in a production plant closer to the customer, making transport and delivery faster and easier.
Focus on New Methods and Innovation
The company wanted to ensure the new 3D printing process became standard, so they decided to abolish the old clay modeling techniques completely. Now, using and developing the new technologies is unavoidable.
By daring to choose non-traditional, cutting-edge technology, the company gained a robust competitive edge. It dramatically reduced the cost and lead time of its processes and became much more flexible in its customer responsiveness.
Hans Boodt Mannequins shows agility in practice, without using the traditional (Agile) frameworks and technologies, like Scrum, Spotify or Lean Product Development. The company has entrepreneurship running through its veins and agility in its DNA.
Perhaps rather than "Agile," Hans Boodt is "anti-fragile" - under intense market pressure, it grew sturdier and more durable instead of breaking.

Want to know more about your next step in Agile? Download
and start your personal change tomorrow.