Starting a company from scratch as first-time founders can be very challenging, but being active community members can make all the difference. Exactly this happened to us when we launched GetInData in 2014 while working as data engineers at Spotify in Sweden. We worked hard by ourselves, but we also got a lot of support from fantastic ex-colleagues from Spotify, our first customers such as Truecaller, and our technology and consultancy partners. Today, after around 8 years, GetInData has grown to a 130-people company.
That is not the end of the story! A few months ago, we officially became a part of Xebia. This is a significant milestone for us and marks the beginning of a new chapter in our journey. As this kind of situation is not very common, and there are not many stories shared by founders, we have decided to contribute to this community (which has always been a part of our DNA) by unfolding the reasons behind our decision on joining Xebia Group and sharing why we are excited about the journey ahead.
Inspirational and supportive partner
We've been fortunate to work with many partners, each of whom has significantly helped us at different stages of our journey, for which we are forever grateful. One of the partner companies that we'd like to focus on now is GoDataDriven from the Netherlands.
GoDataDriven (now Xebia Data NL) is a company that is very similar to ours. It was founded in 2013, and from the very beginning, just like us, it focused on building solutions related to data, analytics, ML/AI, and the cloud. We've known them personally since day 1- we've bumped into each other at conferences and training and even worked for the same customer. We often saw GoDataDriven doing innovative projects, adopting modern technologies as quickly as we do, contributing to them, and constantly sharing their knowledge in the community.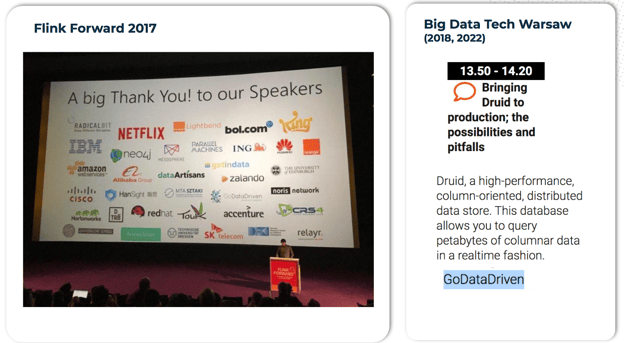 When Rob Dielmans, the CEO and founder of GoDataDriven, reached out to discuss potential collaboration on various projects, we knew it was an opportunity worth exploring.
Learning About Xebia and Its Spinoff Companies
During our discussions, we learned that GoDataDriven was actually a spinoff from a larger Dutch company, Xebia, founded in 2001. While Xebia originally specialized in Java projects, it has since expanded into new areas such as agile, DevOps, cloud, QA, data, analytics & AI. These specializations are often developed through separate brands such as for example, GoDataDriven (Data & AI), Xpirit (Azure Cloud), or Binx.io (Cloud Native), which were founded as pioneers in the Netherlands in their respective technology areas.
Over the course of 20 years, Xebia has grown to employ six thousand of engineers and has earned a reputation for building high-quality and innovative solutions while quickly adopting new trends. For example, Xebia was the Netherlands' first company to implement Agile projects as early as 2005.
Investment From Waterland to Build a Leading Global IT consultancy
Several years ago, the founders and management of Xebia began exploring different options for the future of the company. They considered various scenarios, such as continuing with organic growth, merging with a larger company that shared their mission and values, or finding an investor to help scale the company to a global leader. In December 2020, they ultimately decided to join forces with Waterland, a well-respected Dutch private equity fund known for its ability to support the growth of companies in which it invests, thanks to its successful "buy and build" strategy. In many rankings, Waterland scores as one of the best PE funds worldwide (link).
This partnership allowed Xebia to expand its group and invite more companies to join in building extra competencies and offering comprehensive end-to-end solutions to customers. Over the past two years, Xebia has welcomed new additions to its group, including Appcino from India (offering low-code solutions), Oblivion from the Netherlands (specializing in AWS cloud solutions), PGS from Poland (a software development company formerly listed on the Warsaw Stock Exchange), SwissQ from Switzerland (digital transformation powered by agile methodologies), 47 Degrees from the USA (experts at functional programming and event-streaming) and several more fantastic companies.
With these new additions, Xebia's goal is to become a global company with expertise in modern and future-oriented technologies and IT areas. They are particularly focused on Data & AI and Cloud, which made us very interested in their strategy and competences.
Opening Question from Rob
So, why are we sharing this? Well, it's because we've been in talks with the CEO of GoDataDriven, and after several conversations, he asked us what we thought about GetInData joining the Xebia group.
Previously, other companies had expressed interest in merging with GetInData, but we always quickly determined that it would not be a good decision. For instance, when approached by technology vendors, we recognized that we would typically be limited to their proprietary technology, whereas we want to use various cloud-native and open-source technologies in the best interest of our clients. We also wanted to avoid joining those corporate consulting firms that lack soul and are known for having a pervasive bureaucracy and a rigid corporate culture because we don't feel like we would fit in with them. We value our culture, values, and passion too much to let it all go down the drain. We have seen it happen before in companies we've worked for, and we want to avoid that happening to GetInData and our teammates.
However, in the context of Xebia and what we knew about GoDataDriven, Oblivion, PGS, and Xebia, we considered how GetInData could function within the group before making a thoughtful decision. We spent some time doing so last year.
To make a collective decision on joining Xebia or not, we agreed that all founders would have an equal say, and anyone could veto the proposal.
Some (but not all) brands and companies that were part of Xebia Group in 2022: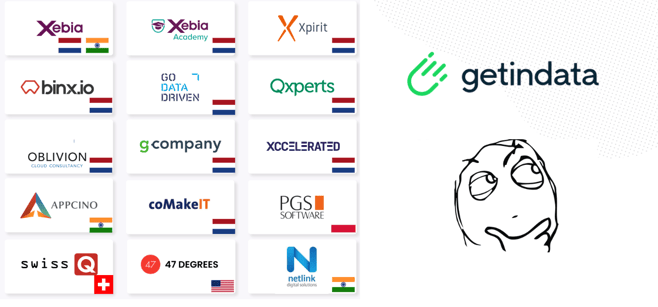 The Same Mission and Values
During our discussions with Xebia, we aimed to determine how our values and missions aligned and whether we would have any synergies as part of the group. At GetInData, our mission has always been to provide a place for everyone to develop professionally in the world of data and AI, regardless of their role, seniority, or technical expertise. We achieve this by employing excellent individuals, working on ambitious projects, and utilizing useful and future-proof technologies. Knowledge sharing is another key aspect that we prioritize, where experiences and insights gained by one team member are propagated to others to facilitate faster learning and development.
We were pleased to discover that Xebia shared a similar mission, which they describe as "authority" - the pursuit of being the best specialists in their field both as a company and as individuals. They also put people first as a core value, emphasizing the importance of taking care of their team members, providing them with trust, autonomy, and respect, and entrusting them with responsibility.
We paid close attention to Xebia's commitment to this value, observing their work organization, habits, and how they responded to crisis situations during our negotiations. We concluded that Xebia truly lives by its values. Their other core values of quality without compromise, cooperation with clients on equal terms, and knowledge sharing were also impressive, with a range of internal and external initiatives organized within the group.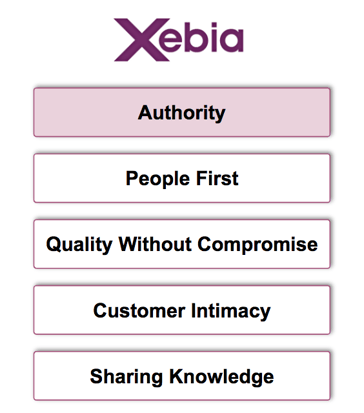 GetInData as Part of the Xebia's Data & AI Arm
Additionally, we wanted to understand how we would fit into the group and whether there would be any potential synergies.
At GetInData, we had already implemented several successful initiatives, such as Guardians, Guilds, and Labs, and we had even more ideas for further development. We wanted to continue all of them and even launch new ones! We quickly learned that Xebia's intention from the beginning was that GetInData continues doing what has worked well for GetInData, plus we should take advantage of the synergies and benefits of being part of the global group.
And joining the group offers many synergies. Given the fact that we didn't have our own sales team at GetInData, we were particularly interested in leveraging the Xebia global sales team and getting access to a larger pool of international clients that can increase our chances of attractive projects, providing more opportunities for promotions and working with our favorite technologies. Furthermore, being part of a rapidly growing group provides greater stability and a sense of comfort in dealing with the unpredictable macroeconomics and geopolitics of the world. Being able to count on the support and assistance of other companies in the group helps us face unforeseen challenges.
We also realized that we have unique and exceptional competencies in the areas of data, AI, and cloud, and we can play a significant role in Xebia's focus on these areas to become a global leader. The idea of being part of the so-called global "Xebia Data" initiative with colleagues from Europe, Asia, Americas really looked exciting to us.

Founders' Dilemmas
Once we realized that it could be a good decision for GetInData to join forces with Xebia, we needed to determine if it was a good opportunity for all four of us. Although we share many similarities such as being born in the same year, studying in Warsaw together, having wives and small children, and living with similar values, each of us had slightly different business and personal reasons for considering this opportunity. We took all of these reasons into account and made a single decision together.
Firstly, we had been running GetInData for almost 8 years, so we thought it might be a good time to start a new big chapter for the company. Secondly, we wanted to continue growing our company in order to meet our mission of providing a place where everyone can grow professionally and personally. Being a part of Xebia would allow us to leverage their sales team and collaborate with other companies in the group. This was also exciting for the four of us to see how GetInData can be a part of a fast-growing global group and to learn from the board and leadership of Xebia. We believed that working directly with many leaders at Xebia who have already built a successful company driven by the mission and values we share would accelerate our personal growth. Being a part of a global company would also open up many international opportunities for us to meet and work with people from other countries. This was particularly interesting because our CTO lives in Zurich, and collaborating with SwissQ could leverage his experience in Data & AI in the local market of Switzerland. Spending time in the Netherlands and building our network there was also considered a positive experience, similar to our previous stay in Sweden, which opened many opportunities for us.
Lastly, we were offered the opportunity to reinvest a significant part of the price in Xebia and become its shareholders. We actually liked the idea that founders of all companies that join the Xebia group become Xebia shareholders and reinvest in Xebia, as this unifies us to have a mutual goal to grow the whole group.
Advisors and Transaction
To ensure that we were making the right decision, we spoke directly with other new-joiner companies in the group to ask about their satisfaction with the decision, how it affected their operations, and whether there were any negative changes. In Amsterdam, we spoke with the head of the Oblivion company, and in Switzerland, our CTO met with SwissQ. During talks with Xebia, we were represented by professional advisors such as DLA Piper and Trigon, who previously represented PGS in their "exploration of the strategic market options", so they were able to provide us with information about possible alternative investors, the market environment, and how they perceived Xebia. Their advisory and support were massive and very helpful. Also, the fact that we are the 8th company to join the group works positively for us because it shows that Xebia was able to convince other companies of a similar size to ours earlier.
Regarding formal issues and contracts, we agreed that the management board of GetInData will consist of existing board members plus one person from Xebia. We will retain autonomy and decision-making power in matters related to managing the company, and everyone will remain in their current roles. This means that, for example, we still have the same CEO, CSO, COO, CTO, CFO, CGO, Chief Architect, Head of Legal, Architects etc.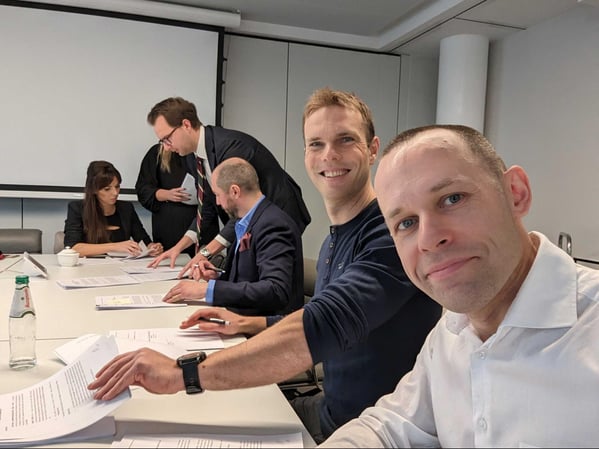 GetInData | Part of Xebia
In 2023, when we became part of the group, we continued working with all of our customers, and we are very satisfied with how they reacted to the news that we joined Xebia. They truly congratulated us that we started a new chapter at GetInData. All people from GetInData also continue working with us in all current roles and departments, both technical and non-technical. We continuously maintain our initiatives, such as guilds, guardians, labs, conferences, and blogs. Our standard recruitment, raises, feedback and benefits processes remained the same.
However, in 2023 we will have more fuel for growth because we will not only be able to implement projects that we win ourselves but also projects that come from the Xebia. Typically, Xebia's projects will be international and will come from countries such as the Netherlands, Switzerland, the UK, the USA, and the Middle East.
We also have more leverage for our own products because we can promote them within the group. For example, if we come up with interesting research in our Labs (e.g., a new version of one of our data platforms), we can offer it not only to our current customers but also to other companies in the Xebia Group. We can also find many synergies with other Solutions teams in the group (e.g., colleagues from the Netherlands) and jointly develop such platforms.
In addition, our Architects will be able to prepare blueprints and consult with architects on the Xebia side for more feedback. We also see many synergies in marketing activities. We participate in various knowledge-sharing initiatives on the part of Xebia to share knowledge with them. We also started traveling to the Netherlands as part of such initiatives to meet with other colleagues from Xebia.
We also changed our name slightly, and we will be presented as GetInData | Part of Xebia on our social profiles or in the logo.
Plans for the Future
We understand that change can bring some uncertainty about what's to come. But, on the other hand, we are positive about this change and believe it's the right move. We understand that Xebia plans to continue its growth and focus on modern IT areas, including data, cloud, and AI, to name a few - which are also our areas of specialization. We believe that Xebia is a dark horse that will become a globally well-known brand, distinguished by quality, innovation, leadership, and ready-to-use solutions in the field of Data and AI - which we are a proud part of.
At the end of the day, it's about the authority that enables high quality without compromise and introduces a positive change in the world - we all want to make it happen, and being a part of Xebia gives us more possibilities to successfully achieve this.