Not surprisingly, most organizations use cloud technology to use applications. With most software available as SaaS today, this is the kind of cloud service that people will encounter first.
In this blog post, we share Cloud Purpose insight and experiences gathered from business professionals.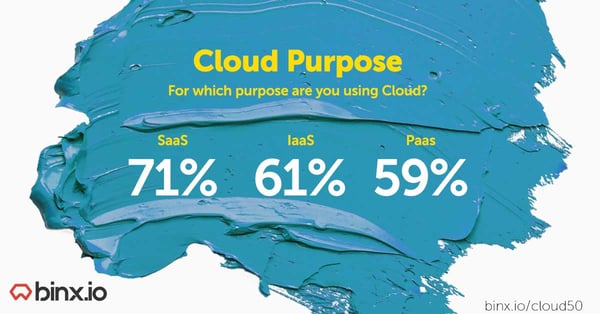 Still, a large part of all participants indicate they run virtual machines (IaaS) (61%) or deploy applications to the cloud (PaaS) (59%). Both are examples of using compute power in the cloud. Nearly half of all respondents (47%) use the cloud for affordable data storage, one of its original uses. Of those, most are smaller organizations of up to 50 people, and 65% of these indicated that they use the cloud for data storage, compared to 44% of organizations of a larger size.
Using, running, and deploying applications are the Cloud's most popular purposes
The primary cloud providers are introducing big data and machine learning solutions at an overwhelming pace, but applications like these can still be considered the new kids on the cloud block. Today, these types of cloud solutions are only used by 41% of all organizations. But as 57% of all developers indicate that they are dabbling with these big data and machine learning solutions in the cloud, we will be looking closer at these in the years to come.

For developers, deploying applications (82%) and using it to run their own managed virtual machines (75%) is the most popular cloud application.
Main Drivers to Move to The Cloud
Organizations across all industries and of all sizes already using the cloud indicate that their main drivers were to decrease the time-to-market (69%) or to realize cost savings (59%). Of all roles, C-suite is most outspoken, as they are predominantly interested in decreasing the time-to-market (70%) to develop a competitive edge. For organizations that have not yet embraced cloud technology, cost savings (45%) would be the main driver to instigate a leap to the cloud.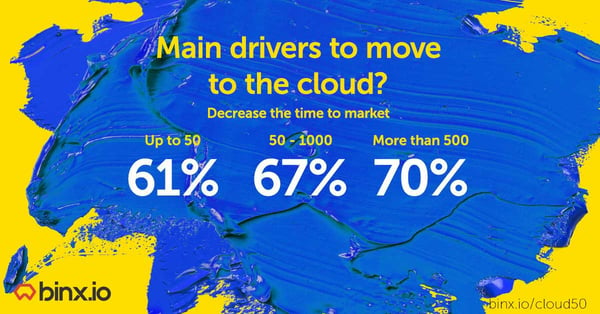 Decreasing the time-to-market and realizing cost savings are the two most popular drivers to cloud services
This article Cloud Adoption is part of the Cloud Survey. You can download the FREE 2018 Cloud Survey: Dutch Skies report now! For a shared insight from business professionals on every cloud topic - from adoption, obstacles, and multi-cloud strategy to the most popular providers per industry and company size.