Press Release | April 7 2020

Xebia named one of the best companies in e-business of 2020. The comprehensive portfolio of digital services is rewarded with five stars, and the 5th place in the list of fullservice digital agencies(large).

The fifteenth edition of Emerce 100 appeared today. It shows the performance of service providers, reviewed by decision makers in the online industry. https://www.emerce.nl/nieuws/emerce-100-beste-bedrijven-ebusiness-2020
More and more often companies choose the originally Dutch IT services and product company Xebia when it comes to digital transformation. The fresh, open approach and vision, combined with deep technical knowledge, are being recognized increasingly by the larger companies in the Netherlands and Europe.

Xebia is at the forefront of digital technology and e-business services for almost 20 years now, helping the top 250 largest companies In the Netherlands by embracing innovation, applying the latest technologies and implementing digital-first business models.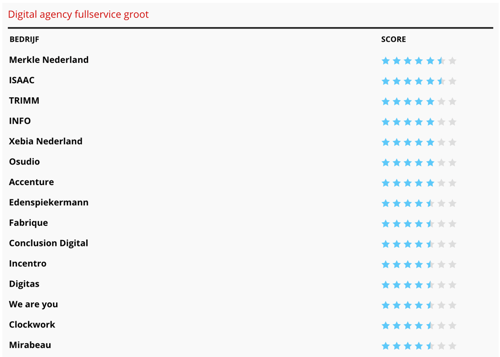 At Xebia we accelerate and align our clients' efforts to become digital leaders so they can outperform their traditional competition and beat new entrants. After the first two waves of Digital and Mobile we have entered the third wave of Artificial Intelligence, which will revolutionize the way our clients interact with their customers tremendously. It's no secret that many incumbents are struggling to adapt to the new normal of the first waves, let alone the third one. It is our ambition to align Business and IT and accelerate the execution of our clients' Digital Strategy so they can deliver amazing customer experiences and get maximum value out of the opportunities of every wave, e.g. introducing new tech driven business models, propositions and distribution models.
Every day we help our clients by fully leveraging all the thought leadership & expertise the complete Xebia Group has to offer - from Digital & Agile Transformation, Devops, Cloud, RPA, Big Data & AI to Full-stack Software Development and Service Design.
Over the years we have helped the following companies improving their business results: Booking.com (Cloud native Software Development and Big Data), Schiphol (Agile and Digital Transformation), Transavia (Agile & DevOps), Picnic (Scaling Distribution), Bol.com (Software Development), The Sting (Multibranded eCommerce and Software Development), ING (Agile Transformation), Philips (Digital Marketing & eCommerce), Van Lanschot Kempen (Digital Transformation), Vanderlande (Software Development) AholdDelhaize (Data Strategy), JDE (Agile Transformation and eCommerce), Intergamma (Agile, Software Development and Big Data) and Unilever (Agile Transformation and Marketing Automation).
Together we create Digital Leaders!
More information: Xebia.com | Vivian Andringa | vandringa@xebia.com