Table of contents
Organizations in the insurance sector, who are traditionally known for its reliance on cumbersome and rigid legacy systems, face particular challenges in making the necessary digital transformation to stay competitive. However, low-code technologies have a lot in store for the insurance industry; they excel at claims processing and underwriting, help keep time-to-market down, streamline vital internal processes like onboarding and compliance, and bring solutions online expediently to answer customer demand.
Low Code and Digital Transformation Challenges in the Insurance Industry
Insurance legacy systems often consist of fragmented databases and manual processes, leading to inefficiencies and data silos which hamper operational efficiency and lead to customer dissatisfaction. Enter low-code development, a visual approach to software development where applications, both internal and customer-facing, are created by dragging and dropping pre-built components and connecting them to a user-friendly interface.
Digital solutions providers often build insurance-specific low-code accelerators for certain use cases, like underwriting workbenches or claims processing solutions, that reduce time to market for the new solutions. Low-code implementation allows developers to focus on the logic and functionality of the application rather than getting bogged down in intricate lines of code, and comes equipped with a range of templates, integrations, and pre-built modules.
Learn more about why low-code is a high-level priority for enterprises.
Not only does this approach democratize the development process and enable a wider range of employees to participate in app creation, turning non-tech-oriented employees into what are known as citizen developers, but it gets business and IT teams on the same page quickly, resulting in enhanced collaboration that accelerates development cycles.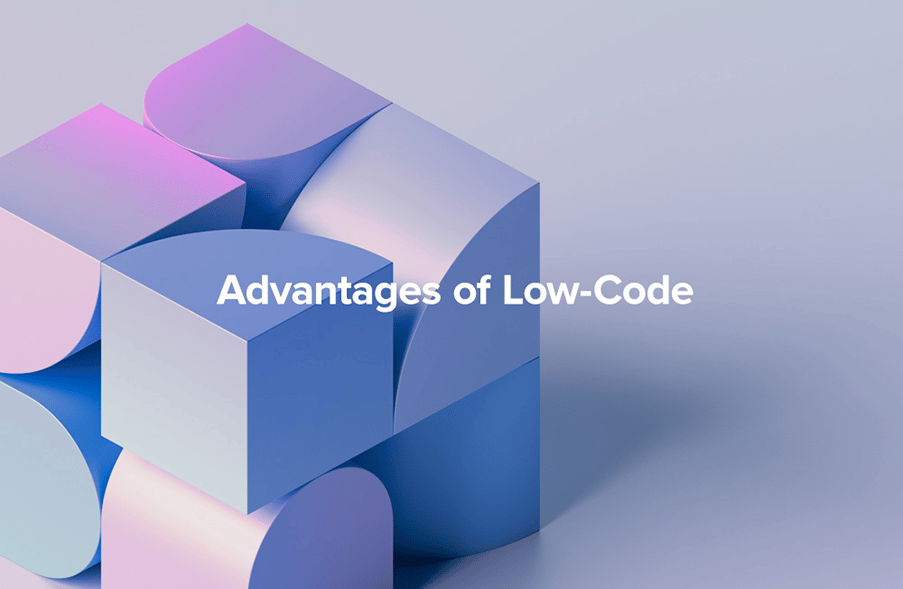 Advantages of Low-Code
Speed of Market Responsiveness
Coding, debugging, and testing can all extend the time-to-market. Employing a visual approach shrinks development timelines from months to weeks, as low-code significantly expedites the development lifecycle. Proofs-of-concept (PoCs) can be built in just weeks with full implementation taking just a few months. This speed allows insurers to gain a swift competitive edge and respond more quickly to ever-changing customer demand.
Creating Citizen Developers
Low-code allows talent with limited technical backgrounds to actively participate in the development process and become "citizen developers". This fosters better collaboration between IT and business teams, resulting in applications that can address market shifts from multiple angles.
Scalability
Growth is fueled by outstanding customer experience. As insurance companies grow and expand their operations, low-code applications can seamlessly scale to accommodate increased demand without extensive code rewrites. Additionally, updates can be made with ease, ensuring that applications remain capable of addressing evolving market needs.
Cost Efficiency
If the threat of massive upfront costs typically associated with overhauling legacy systems are off-putting, know that wholesale upgrades or even extensive training isn't necessary. Low-code can pull data from legacy systems and put it into action using ready-made components that execute needed functionalities.
Agility
Low-code upgrades can act as an additional layer on top of legacy systems. In addition to the cost-saving benefits, this allows companies to become accustomed to new setups – which we assure you does not take long! - while still being able to rely on existing systems in the short-term when necessary.
Use Cases
Claims processes
Aviva France typically receives around 80,000 claims per year. To enable better communications and collaboration between departments, customers, and systems, the Connected Claims solution by Appian were implemented to handle life insurance as well as property-and-casualty (P&C) claims. Low-code implementation meant that Aviva's number of same-day claims settlements rose astronomically from 1% to 25%, and their ability to resolve claims within three days skyrocketed by 530%.
Learn more: Aviva France: Optimizing Insurance Processes to Speed Claims Settlement
Underwriting
Underwriting for insurance has to be both quick and good - one cannot be sacrificed for the other. Manual data validation, information silos, and lack of scalability all threaten the fast delivery of quality underwriting. Automating the underwriting process helps insurers do more with the same amount of resources. Appian's Connected Underwriting helps insurance firms like CNA reduce time spent on delivering quotes by up to 60%, helping them remain agile and deliver a top-tier customer experience.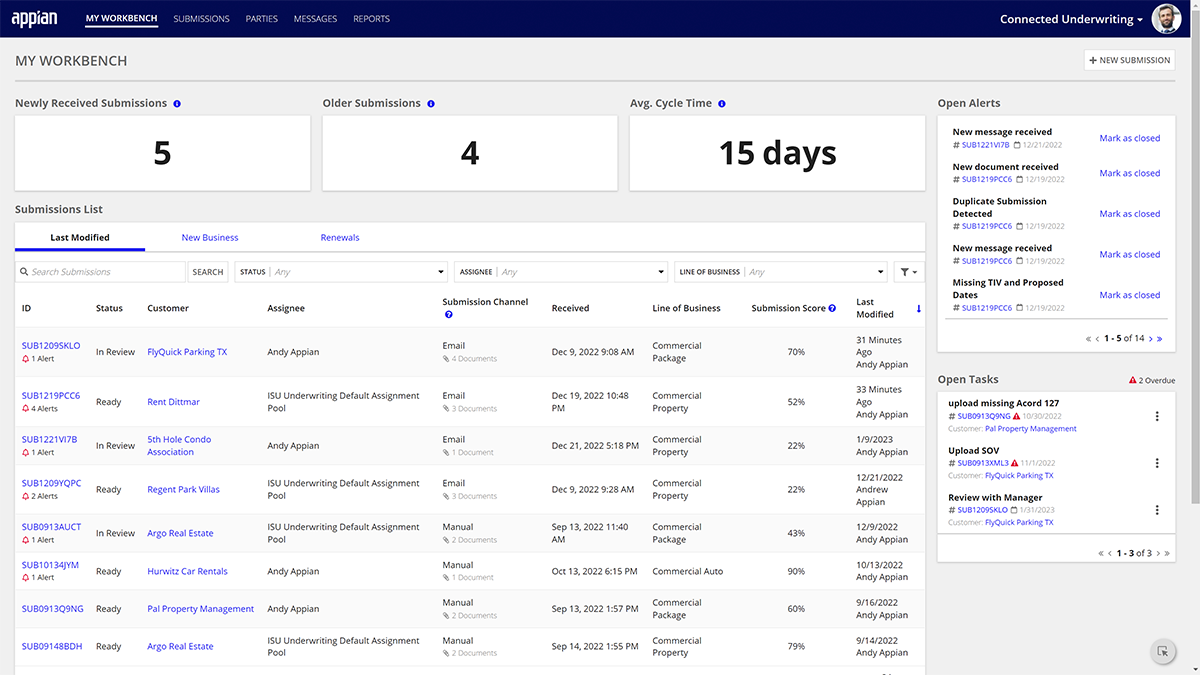 Source: Appian

Agent and Broker Platforms
Xebia has developed a B2B platform based on OutSystems for the UAE branch of RSA which has simplified the General Insurance policy issuance, servicing, endorsements and renewals, and introduced a unified, app-accessible, user-friendly dashboard for quoting, buying policies and accessing other resources. The new app has resulted in high reusability of the solution across LOBs, as well as reduced time to deliver this solution in other LOBs.
Using a low-code platform enabled the company to quickly introduce new solutions as an additional layer of their systems without rebuilding them from scratch, taking a few weeks to build a proof-of-concept, and then just a few months to set in place.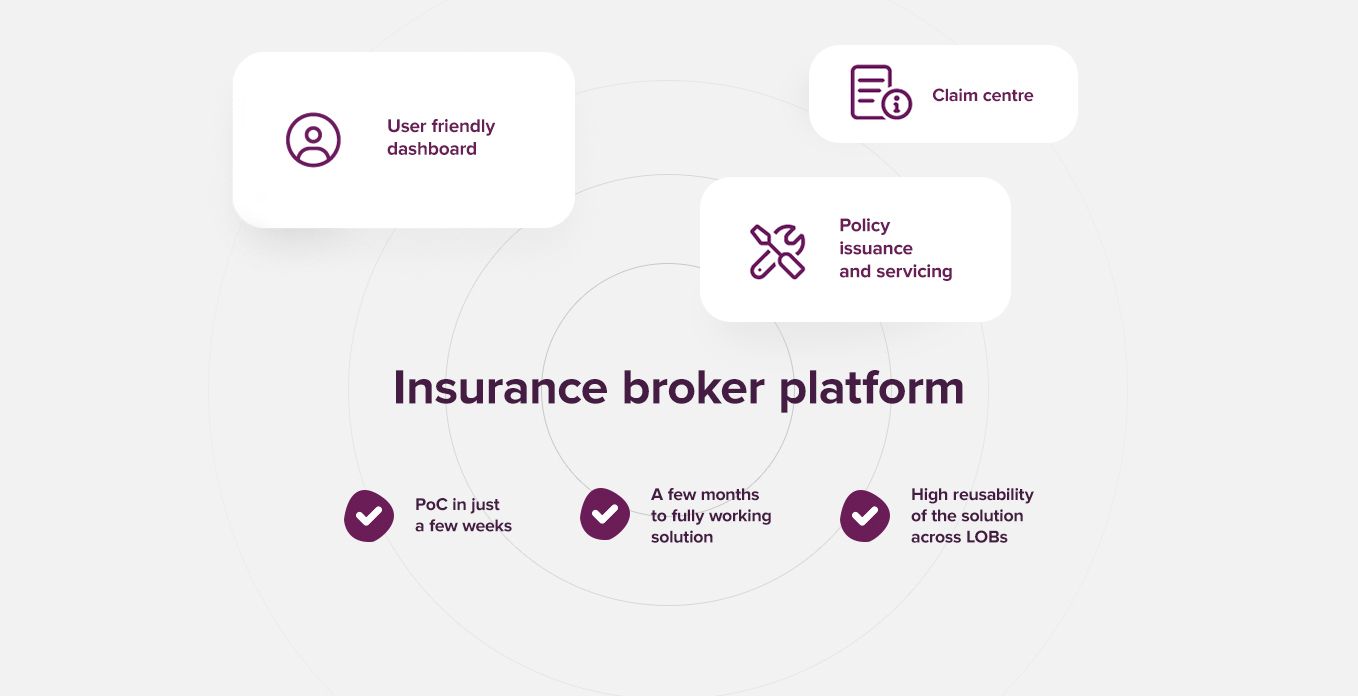 Customer Service
To help one UK-based general insurer consolidate their customer service operations, Xebia developed a low-code solution. Before, their customer service required the use of many different in-house systems for complex requests. Data in these systems was siloed and, as such, did not have a single source of truth.
After implementing the new solution provided a single unified dashboard for both call centre and operations teams to access a 360-degree view of their customers, complete with a full history of claims, active policies and communication histories across email, phone, chat, and WhatsApp, to serve them in a highly personalised way and maintain their loyalty.
In the end, 22 systems were consolidated into one interface, resulting in an over 40% decrease in operational service costs and customer service response times expedited by a factor of 9. Moreover, transfer time for investment funds were reduced from 45 minutes to 5 minutes, while pension transfer times were shortened from 9 days to just 1 day.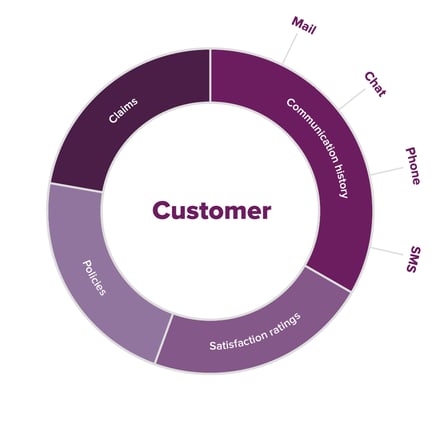 Other use cases
Start designing your low-code solution with a wealth of experience on your side
Xebia's strength lies in the ability to build solutions on major low-code platforms like Appian, OutSystems, Microsoft Power Platform and Salesforce. Together, we have provided off-the-shelf functionalities that are tailor-made for our clients, including insurance providers.

At Xebia, we work with platforms that offer the best mix of cutting-edge AI technologies with ease of use of low-code, allowing the insurance industry to offer the kind of fully-customized experience expected by insurance customers in 2023.

Jakub Gutsche
Low-Code Practice Lead at Xebia
To get the full view of our expertise, read more here — Solutions for insurance companies.