Excellent is the average of tomorrow. Organizations have to speed up, cooperate flawlessly and be able to release quality software into production whenever they want. Only then will they be truly successful and stay ahead of competition. One crucial prerequisite is smooth cooperation between business and IT. One often hears that business doesn't understand "why IT just doesn't deliver the features we've asked for" whereas IT finds that "business should do their work properly by articulating clear requirements." This traditional business and IT gap still is present in many organizations – ultimately causing these organizations to slide back from excellent to average.
So, we thought, why not open the eyes of both teams in a fun, learning, and inspiring atmosphere? Behold, the robot challenge. We let business and IT form multidisciplinary teams and jointly specify and implement requirements to guide a robot (an mBot) along a predefined route towards the track's finish line. The team that completes all challenges and reaches the finish line quickest, wins – this competition element was one of the main drivers for fun and inspiration. Let's take you along the setup and effects of a robot challenge day.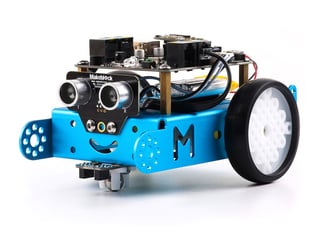 Setup of the day
The day consisted of a number of sprints. Each sprint was aimed at addressing one or more challenges. Each team had to specify the desired behavior of their mBot, and find out about any corner cases that could exist. Team members challenged each other to ultimately arrive at the one specification that's fully supported by the whole team. Next, the team geared up for the implementation of the specified behavior, which again was a whole team effort. Several tracks were available for the teams to actually test the implementation. Rather than waiting until the end of the sprints, teams were walking to these tracks time and time again just to verify whether their mBot was able to take that 'sharp right' turn. Each sprint's results were rated by a professional jury, the best teams entered the final round.
The nice side effects were the day's main result
Obviously, the day resulted in a team winning the final round: the team that completed all challenges successfully and reached the finish line first. Yet, during the day a whole lot of nice side effects were obtained: while truly collaborating intensively with each other, business and IT stakeholders really came to understand each other's mindset. "What seems obvious at first ("make the robot follow a line"), in fact is not that obvious at all – now I know!", responded one participant. Another participant added: "It feels great to directly explain what we need!". Business stakeholders learned the fundamentals of programming and as such understood the necessity of clear specifications in their face. And by actually engaging in programming, they understood the major challenges of the IT stakeholders: "It's harder than you think". IT stakeholders, in turn, were able to directly contribute to the specifications and think of certain corner cases upfront – rather than by trial and error.
Start bringing your business and IT together
Based on the energy during the robot challenge day, it's clear that this one-of-a-kind workshop day offers value to every organization – regardless size or industry. It's a great energizer to kick-start true business and IT collaboration in addressing tomorrow's challenges. Please feel free to read more on the Robot Challenge organized at ING's Tribe Day, watch the after movie or actually learn how the mBot actually experienced the day. More information, please contact me, Viktor Clerc (vclerc@xebia.com, 06-24509719)