An IBM study on the global AI Adoption Index 2021 says as many as 34% of the respondents, Global IT Professionals, said the company they work for had not deployed AI yet1. Why the hesitation, though?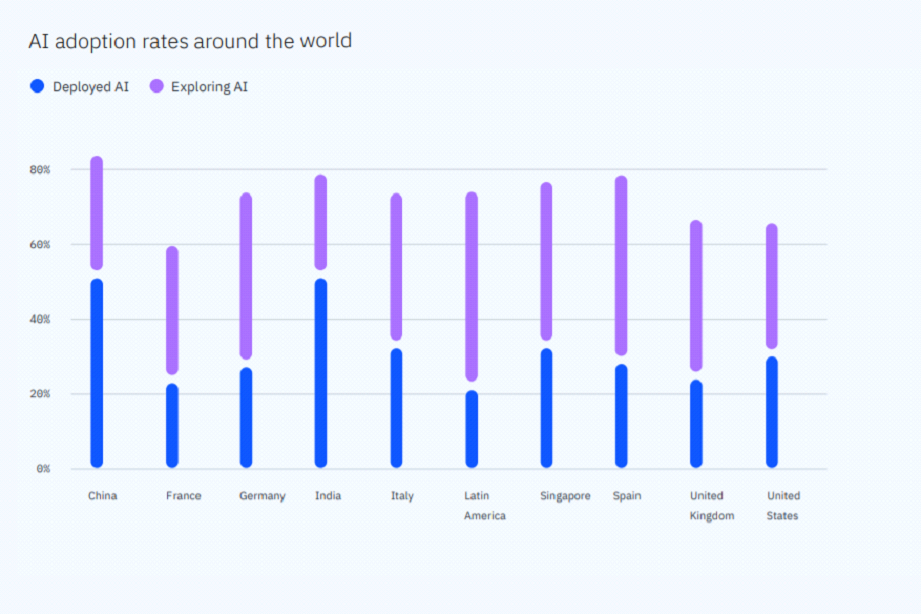 Before we go to why the adoption rates haven't picked up, let's look at what's driving AI adoption.
Improved accessibility of data and insights: With markets, businesses, and the consumers going digital, there is an explosion of data, which in turn is a veritable treasure of insights for every party in the supply chain from demand to fulfillment. Data acquisition, cleansing, modeling, and analytics have become accessible and inexpensive with advancements in technology. The cost of data storage has fallen by as much as 76% in just the past five years2. Making data warehousing more accessible and available to SMEs and large businesses alike.
Changing business needs: According to a Lenovo marketing campaign, "Data Centered" as a concept3 has been picking up both in the speed of adoption as well as numbers. But why? From insurance to travel, groceries to healthcare, consumer behavior has undergone a paradigm shift to the web. Additionally, the falling cost of mobile data plans has allowed people access to data wherever they are, whenever they need it. From restaurant reviews, suggestions, product and service ranking to the purchases themselves, everything is shifting from brick and mortar to click and digital.
Automation to empower work: As businesses, customers, enablers, suppliers, vendors, just about everyone scrambles to go digital. They are also going global. This trend has changed traditional entry barriers for products and services and has allowed for disruptive business models that are global in practice and regional in performance. As a result, every business strives to get the most return on the cost to overcome the reducing profit margins in a near-perfect global competition. Automation has been heralded as the answer and the quintessential light at the end of the tunnel.
Increased visibility and transparency of business outcomes: As businesses grow data-centric, the acquired data gets integrated, allowing for visibility across the enterprise operations. Building upon this visibility is intelligent solutions aimed at stakeholder visibility into the business outcomes. It translates into improved strategy, reduced failure rates, and explosively higher predictability of the success or failure of current and future business initiatives. So great is the ability today to foresee failure. Organizational goals now include the term "Fail Fast," where they attempt to try just about everything because they can now do it quickly and predict the business outcomes that can be realized.
Ability to deploy anywhere – on-prem, public cloud, or private cloud: The combination of the reduced cost of data storage and the stellar increase in the ability for businesses to adopt public, private, and hybrid cloud infrastructure is the core driving force behind AI's growing prominence and popularity. That brings us to what traditional technologies cannot, and AI can.
What Can AI Do Differently Or Better?
By definition, AI (Artificial and Intelligence) outlines what it can do differently and better. The single biggest function that AI serves is low-level decision-making. Machine learning models allow AI to understand the context of a decision to automate it. From low-level AI business cases like contextual automation in IT Infrastructure Management to enabling autonomous vehicles, computer-vision-based quality controls, and use cases in just about every single industry, AI fundamentally satisfies three major business concerns:
Quality Consistency: Through pervasive and contextual automation, quality control has gained significant traction
Cost and Speed: If the business case is financially viable, AI can exponentially increase performance. A simple example is Lemonade Insurance's world-record-setting three-second claim processing
Business Focus: One of the biggest challenges in any industry is the dependency on human input. With AI, human touchpoints are reduced; thus, the people involved are now free to do what cannot be automated – business vision, strategy, the core business function of enterprises.
AI can improve security and productivity through intelligent automation and discover hidden insights to give businesses more answers to customers, thus improving customer experience4.
AI can help overcome today's biggest challenges, such as field operations. Reducing human touchpoints can also reduce human error, thus improving manufacturing quality. That brings us to how you can begin.
AI Use Cases that Should Excite You
Data Visualization
From real-time dashboards on infrastructure health to project management, enterprise program governance, and a multitude of other data points, visualization, especially when imbued with the power of AI, can make strategic choices and decision-making, in general, more predictable and reliable. As digital channels for sales, operations, communications, and corporate relations increase in adoption, data analytics and visualization are definite differentiators for enterprises.
Predictive Modeling
We live in an age where customers want to be catered to a segment of one – that is how hyper-personalized products and services are. AI allows for predictive modeling based on available data, thus allowing goods and services to be customized, bundled, and promoted with a myriad of offers to improve sales conversions.
Sales Aids
As in the case of predictive modeling, AI as aids to sales personnel is a critical business case for enterprises irrespective of industry vertical or geography. As digital-enabled sales channels are on the rise, businesses can now use AI to predict the right product mix for storefronts, identify potential candidates for promotions, product bundles, cross and upsell options and so much more!
AI For Field Operations
For communication networks, field sales, and supply chain, among a host of other geography-centric operations, AI can help reduce risk and improve performance like never before. From providing contextual information based on geography to providing insights on real-time analytics into traffic, weather, network monitoring, and just about any parameter, field operations teams can do better, faster, and using fewer resources.
How to Get Started with AI?
Getting started with AI is reasonably simple, despite much evidence to the contrary. Here, we'll break it down to the basics, which will also, in turn, explain why 34% of the survey respondents were skeptical of AI deployment.
How Much Data Do You Need?
This is the first question to ask. The answer? As much as your model needs to get started. One of the most common mistakes businesses have traditionally made whether with big data, data warehousing, or AI, is to widen the business case to "make the most of the solution." In reality, what you need is the first taste of success – quick! Once your proof of concept (POC) is ready and successful, you can allow the data generated to form the basis for fine-tuning your AI model, and also expand the deployment through Agile Continuous Integration and Continuous Deployment (CICD) approach.
What to Watch Out For?
Cost-Benefit correlation. It may seem like a good idea to start very small – but you may fail because your model is too small or because your perspective is too narrow. Take computer vision, for example. You can use the same model for a variety of applications – if you're assembling components, you can do a computer vision check to make sure all the screws and bolts are tightened appropriately. You can also check panel gaps; you can check for scratches, dents, cracks, or any other aspect of manufacturing that you may not have considered when devising your AI POC.
Here, if you are looking just at screw tightness, your model may hypothetically be too expensive to replace the human touchpoints. But if you expand the business scope to include other use cases, you could cumulatively reduce the cost of AI and thus justify its adoption.
The Biggest Challenge
It's perspective! Most of the businesses adopting or trying to adopt AI suffer from either myopia or the Distress of Excess. Secondly, it's the understanding of what AI can do. With Data Science and AI being two of the most expensive talent pools in today's world, building your AI Center of Excellence can be a significant challenge. Today, there is a shortage of talent – this gap will only increase, and be as high as 85 million by 20305. The lack of resources understanding what AI can do, and more importantly, how it can do better, is actually impeding businesses worldwide, from making AI more commonplace – so much so that 19% of the 3500+ respondents of an O'Reilly survey said it was a significant challenge6!
The Solution?
While establishing your own AI CoE can be a challenge with talent being both expensive and rare, it is not impossible. Today, businesses are increasingly engaging partners to help them along the way. Three ways, to be precise:
Consulting Services:
When the AI practice is in its nascency, stakeholder buy-in for investment into capabilities can be significantly difficult. Consulting partners can bridge this gap as they can provide the AI CoE as a service, or deliver it as a project, allowing you to both gain stakeholder acceptance and interest, and build the necessary capabilities, best practices, and the cultural changes required.
Talent Services:
As talent acquisition increases alongside a significant gap between skilled resources and the number of jobs, the average tenure decreases as well. When combined with the time it takes to hire a resource, it can spell the difference between success and failure. With consulting partners, this risk is significantly reduced, as they maintain pools of resources that can be appropriated as needed.
Technology Services:
Selecting the right technology stack, implementing the right technology mix, and finding the right balance between what you need today, and what you may need tomorrow is a complex ask, especially in an industry that currently has 250,000 more jobs than there are takers7. Consulting partners can bridge this gap and help you make the right choices for current capabilities and future resilience.
The Bottom Line
AI is here to disrupt. Irrespective of industry, geography, or type of business, AI adoption is seen to increase revenue, reduce cost, and most importantly, improve bottom lines. That said, choosing the right partner, whether or not you plan on establishing an in-house AI CoE can help reduce risk and significantly decrease your time-to-market for AI solutions.