Imagine a world without WhatsApp. It probably wouldn't change much, because WhatsApp has been slow to implement new features that would enable its platform for e-commerce, banking or marketing purposes. In September 2017, the first reports of WhatsApp's new business-to-consumer (B2C) features arose, with customer support as one of the central axes on which it could swing into the enterprise jungle. This seems to be it for now, as no new reports of other B2C functionality have come out. And, with local and European privacy laws lurking just around the corner, it might take some time before WhatsApp can fly in a B2C context. Until then, WhatsApp will remain just a messaging application.
So, the absence of WhatsApp wouldn't change the way you get in touch with the companies you buy products from because this new customer support functionality isn't widespread yet. And it wouldn't change the way you do your daily banking because it's still just a chat app, and it certainly wouldn't change the way you prove your identity to, say, the government. If WhatsApp went away, you would probably just use an alternative chat application to talk to and message your friends, like Facebook Messenger or Telegram. WhatsApp is only a small part of our daily life, and we need a multitude of other services to get everything else done. Removing one these services doesn't change everything, we just swap it for an alternative and go back to our daily business.
You can probably also imagine a world without WeChat (微信), because you most likely haven't heard much about it. Tencent (腾讯), the Chinese internet giant that's worth more than Google, released this multi-purpose social media mobile application software back in 2011. Today, it has over 980 million monthly active users (902 million daily active users), and has been called China's "App for Everything" and the world's first "Super App."
But besides comparing it to messaging applications like WhatsApp and Facebook Messenger, most media coverage on WeChat doesn't go much deeper than that. Only a handful of news items, blog posts or articles discuss its particular features, and even fewer discuss how to use WeChat in sales and marketing strategies for business. On the implementation side, an English version of the documentation is available, but it is outdated in some areas and completely lacking in others.
Clearly, WeChat is not much of a thing here, yet, but Tencent's app did feature in the last Technology Radar by ThoughtWorks. The article puts WeChat in the 'Trial' category, which means that it's worth checking out to determine if it could help your business, but hasn't gained much traction. In the future, that might change.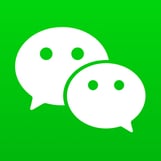 To see why, let's go back to our previous discussion and switch things around a bit. Would the daily life of a Chinese consumer change if we took WeChat out of it? You bet. WeChat has penetrated so many aspects of daily life that the average Chinese consumer is lost without it. From store payments, hotel reservations and online purchases to gym membership cards, frequent flyer statuses, and supermarket discounts, everything is contained in "the one platform to rule them all."
Almost all WeChat users are also active on the Instagram-like social media functions that allow you to share pictures with your friends and respond to their funny cat videos. What's more, it can even be used to officially prove your identity, as it is replacing paper identification in Guangzhou and soon throughout China. More and more Chinese businesses are moving abroad and taking WeChat along with them as their primary marketing platform. So, it is not surprising that WeChat has finally started popping up on the Technology Radar. If we look at the pervasiveness of WeChat in the Chinese market and what it might do in ours, do you think the comparison to WhatsApp is still fair?
Definitely not. WeChat has surpassed WhatsApp in so many ways that it is hard to see why Facebook didn't manage to improve their platform earlier. Tencent's WeChat Open Platform (微信开放平台) already opened its doors for innovative solutions to everyday problems years ago, not just messaging and communication.
Anyone can step up and open a sales or marketing channel on WeChat. The commercial users range from small street vendors who want to accept payments through WeChat to large retailers that implement a full-blown e-commerce and customer support platform that replaces their webshop. WeChat APIs take away the complexity of authentication, payments and messaging by providing these out-of-the-box, yet with enough flexibility to connect with a customized backend of any larger enterprise. With over 900 million daily active users, it is not hard to see how an effective presence on WeChat can easily double or triple your user base overnight.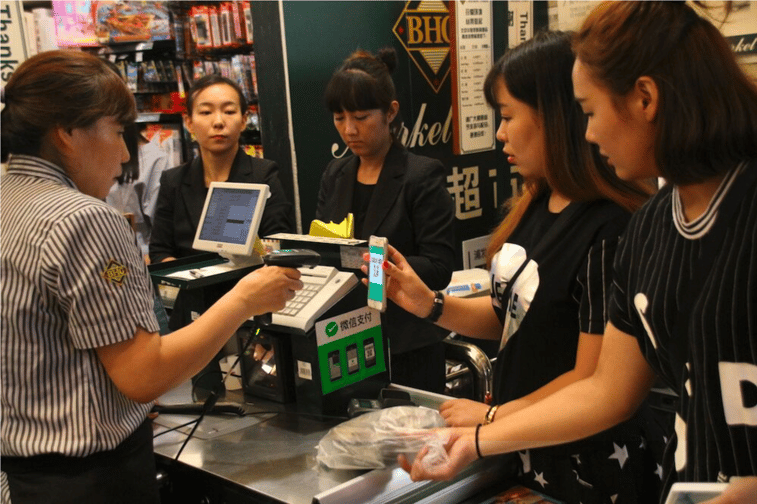 Pay using WeChat at the supermarket (photo by Wendy Steffens)
From a marketing or sales perspective, the pervasiveness of WeChat is precisely its beauty. If you want to increase your visibility on the Chinese market or reach more of the Chinese consumers in your own country, it is imperative that you have a presence on Tencent's app, because these 900 million users are already accustomed to contacting companies through WeChat.
The downside is, it can be hard to get started. Especially when it comes to the more advanced features, like payments and location services. If you don't read Chinese, you are mostly out of luck. Paired with a rather lengthy application process for companies and the fact that you need a locally registered business entity in China should you want to target mainland Chinese users, publishing anything even remotely useful on WeChat can be a daunting task.
At Xebia, we've experienced these difficulties first hand. Over the last few months, we've been investigating WeChat's possibilities and built several applications on top of its APIs. We're very enthusiastic about the potential and would like to help you get up and running with WeChat quickly. Over the next few weeks, we'll follow up on this article as a three-part series. Part two will present the most important features of WeChat, and part three will provide a step-by-step guide on how to build your first application on the platform. This series should help you assess whether or not WeChat has something to offer your business. In the meantime, feel free to contact me or Xebia directly about WeChat if you're interested. Let's make WeChat a thing here!

Some useful links (in English):
Wikipedia.

WeChat

. Last accessed on January 14, 2018.
Technology Radar.

WeChat

. ThoughtWorks. Last accessed on January 14, 2018.
Wikipedia.

WeChat

. Last accessed on January 14, 2018.