Abstract
In this fast-paced digital led world, scalability and agility often cannot be achieved in-house. It becomes apparent that the only sustainable and smart way of doing business is to outsource it to a third-party vendor. That third party could be across the country or on an entirely different continent and is not directly employed by the organization. The benefit of outsourcing sums up to reduced costs, improved services, access to better talent pool and enhanced products and services.
The pandemic has forced many organizations to crosscheck on their outsourcing activities. Close linking of supply chains and prompt business actions are the need of the hour. Earlier offshoring was a popular business models adopted by developed nations to outsources their back office and application development practices to third world countries. However, with the advent of new business models and the prerequisite for swiftness and quick results, nearshoring is gaining prominence. Although both offshoring and nearshoring are different types of methodologies to outsource work to third party vendors, there is difference between the two.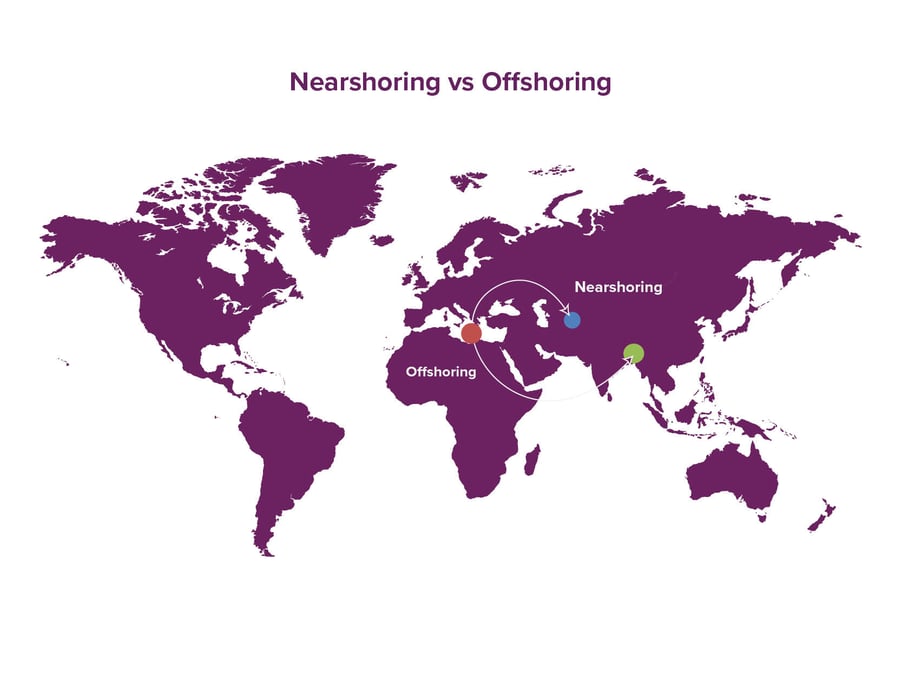 In the above map, the difference between nearshoring and offshoring becomes apparent when a European country chooses to outsource nearby or far away. Offshoring would simply mean that the European company outsources its work to an organization in the faraway place, like the APAC region. Nearshoring would mean when that European organization outsources its work to an organization nearby, like the Middle East. While both have certain benefits, in present times with the changing world dynamics, it would be more efficient for the European organization to nearshore its work to a nearby country to reap the benefits of reduced time and costs.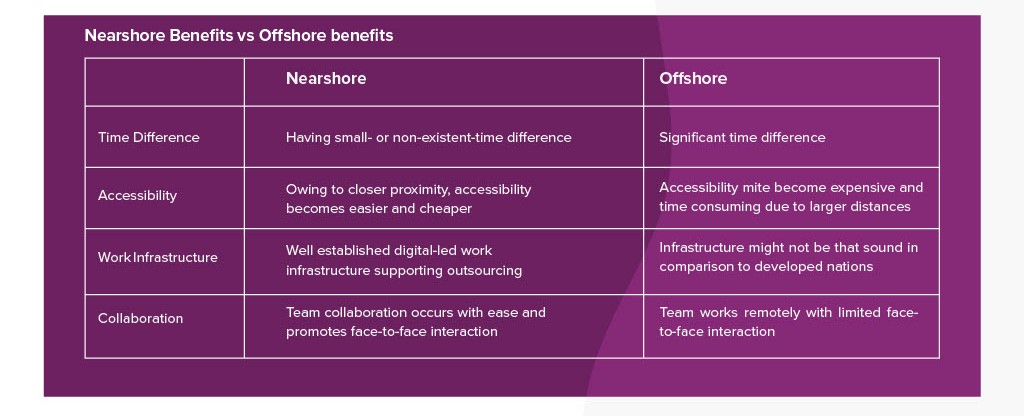 Thus, it can be inferred that if any European organization wants to outsource work that can be done at lower costs in the same time zone, then nearshoring will be the preferred medium. Offshoring would be preferred by those where teams can work remotely and for those whose businesses require round-the-clock technology maintenance or customer support.
ICT and Outsourcing in the Middle East
In the Middle East, UAE is expected to witness the fastest growth in terms of digitalization. The ICT spending in the UAE is estimated to grow at a CAGR of 8% during 2019-2024 to reach USD 23 B in 2024. The region is witnessing a faster adoption of cloud, IoT, 5G, cybersecurity, AI/ML technologies. The government through its initiatives is also giving an impetus to the booming ICT market in the region. In addition, organizations are focused on the development of an enterprise-centric or application-specific service portfolio. The region is witnessing monetization of smart HR capabilities, VDI framework, AR/VR, and virtual conversational platform growth.
Further, Dubai Outsource City was launched in 2007 to cater to the market demand for outsourcing companies. It is a business park dedicated to local and international outsourcing companies specializing in HR, IT, back-office support, and call centre operations. It provides comprehensive, purpose-built infrastructure for companies who want to establish themselves within an UAE free zone. Some of the free zone benefits include 100% business ownership and tax-free income, as well as value-added services such as networking opportunities, venue management, industry awareness programs and government services.
Nearshoring in the Middle East
The Middle East has shifted its focus from oil producing businesses to formulating strategies to boost the ICT market. Further, owing to the geography proximity to European countries, the Middle East enjoys comparative advantage in terms of accessibility, time-zone, labour pool, and next-gen technology adoption. The region is witnessing an influx of outsourcing vendors specializing in smart HR solutions and digitized and automated call centre operations establishing their presence in the region. The Middle East also offers the following benefits for nearshoring which include:
Skilled Talent Pool: Each year, The UAE has a pool of talent which specializes in STEM education. Further the region has a pool of developers, programmers and security professionals which are suitable for the roles of outsourcing jobs available in the region.
Reduced costs: The average wages of Middle East nationals are lower as compared to those of the European professionals. Further, nearshoring to the Middle East which has the same time zone, enables organizations to take shorter flight trips, saving time and money.
Enhanced collaboration: Since the Middle East has the same time zone as that of European organizations, team collaboration and face to-face meeting become possible in real time.
Superior infrastructure: The Middle East, mainly the UAE and Saudi Arabia boast of superior infrastructure supporting outsourcing services. Further, the Dubai Outsourcing City initiative also focuses on attracting best fit technologies, talent, and vendors in the region.
Going forward, Middle East is expected to be the budding region for nearshore services and practices. European countries, on exhausting internal options will do look for nearshoring their IT services to the Middle East. Robust outsourcing infrastructure, talent pool, reduced costs, government initiatives, closer proximity will be added advantages for the region.