There are several models on the market that describe how to apply Scrum and Agile in organizations with dozens, even hundreds, of teams. These including the well-known SAFe and LeSS frameworks. This article introduces CoCreate, a model based on Spotify's "organizational blueprint" that has been applied to two Dutch companies, ING and KPN, that now serve as inspiring examples.
The following convictions distinguish the CoCreate model from other scaling models:
Success is dependent on developing people and culture
Autonomy must be combined with purpose-driven
Integrating business and IT is more profitable than integrating IT departments alone
Product development is equally important to (IT) product realization (if not more so)
Being Agile is more critical to success than applying Scrum
The Modern Organization: Scale to Be Small
CoCreate is a philosophy and guide for organizations with ambitious goals and a foundation in Agile. These organizations want to create cultural change, attain a more competitive position, and increase adaptability and growth while cultivating an Agile culture.

This article is published in
. Agile NXT is a new magazine full of inspiration for professionals on the emerging Agile journey. It challenges you to think differently and improve yourself, your team, and company a little more each day.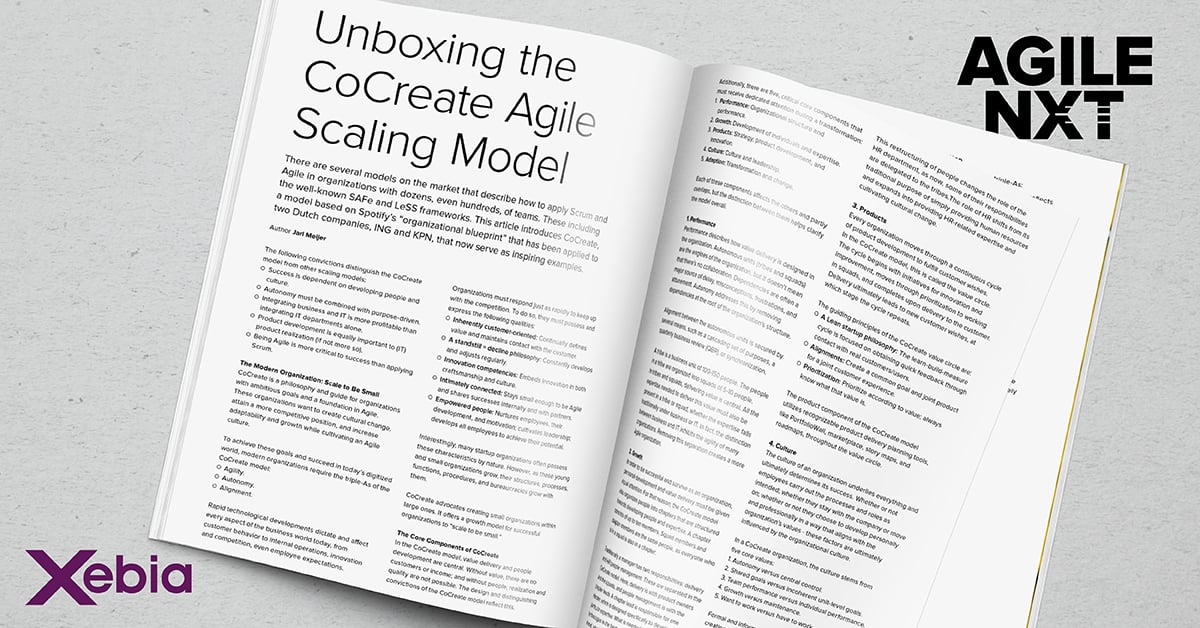 To achieve these goals and succeed in today's digitized world, modern organizations require the triple-As of the CoCreate model:
Agility
Autonomy
Alignment
Rapid technological developments dictate and affect every aspect of the business world today, from customer behavior to internal operations, innovation and competition, even employee expectations. Organizations must respond just as rapidly to keep up with the competition. To do so, they must possess and express the following qualities:
Inherently customer-oriented: Continually defines value and maintains contact with the customer.
A standstill = decline philosophy: Constantly develops and adjusts regularly.
Innovation competencies: Embeds innovation in both craftsmanship and culture.
Intimately connected: Stays small enough to be Agile and shares successes internally and with partners.
Empowered people: Nurtures employees, their

development, and motivation; cultivates leadership; develops all employees to achieve their potential.
Interestingly, many startup organizations often possess these characteristics by nature. However, as these young and small organizations grow, their structures, processes, functions, procedures, and bureaucracies grow with them.
CoCreate advocates creating small organizations within large ones. It offers a growth model for successful organizations to "scale to be small."
The Core Components of CoCreate
In the CoCreate model, value delivery and people development are central. Without value, there are no customers or income; and without people, realization and quality are not possible. The design and distinguishing convictions of the CoCreate model reflect this.
Additionally, there are five, critical core components that must receive dedicated attention during a transformation:
1. Performance: Organizational structure and performance
2. Growth: Development of individuals and expertise
3. Products: Strategy, product development, and innovation
4. Culture: Culture and leadership
5. Adaption: Transformation and change
Each of these components affects the others and partly overlaps, but the distinction between them helps clarify the model overall.
1. Performance
Performance describes how value delivery is designed in the organization. Autonomous units (tribes and squads) are the engines of the organization, but it doesn't mean that there's no collaboration. Dependencies are often a major source of delay, misconceptions, frustrations, and attunement. Autonomy addresses this by removing dependencies at the root of the organization's structure.
Alignment between the autonomous units is secured by several means, such as a cascading set of purposes, a quarterly business review (QBR), or synchronization.
A tribe is a business unit of 100-150 people. The people in a tribe are organized into squads of 5-10 people. In tribes and squads, delivering value is central. All the expertise needed to deliver this value must also be present in a tribe or squad, whether the expertise falls traditionally under business or IT. In fact, the distinction between business and IT inhibits the agility of many organizations. Removing this separation creates a more Agile organization.
2. Growth
In order to be successful and survive as an organization, personal development and value delivery must be given equal attention. For that reason, the CoCreate model also organizes people into chapters that are structured towards developing people and expertise. A chapter
consists of up to ten members. Squad members and chapter members are the same people, as everyone who is in a squad is also in a chapter.
Traditionally a manager has two responsibilities: delivery and HR/people management. These are separated in the CoCreate model. Here, delivery is with product owners and the squads, and people management is with the chapter leads. A chapter lead is responsible for one chapter, which is designed specifically to develop a particular expertise: What is needed to use current technologies in the best way? Furthermore, looking ahead, what is the technology for tomorrow? This restructuring of people changes the role of the HR department, as now, some of their responsibilities are delegated to the tribes.The role of HR shifts from its traditional purpose of simply providing human resources and expands into providing HR-related expertise and cultivating cultural change.
3. Products
Every organization moves through a continuous cycle of product development to fulfill customer wishes. In the CoCreate model, this is called the value circle. The cycle begins with initiatives for innovation and improvement, moves through prioritization to working in squads, and completes upon delivery to the customer. Delivery ultimately leads to new customer wishes, at which stage the cycle repeats.
The guiding principles of the CoCreate value circle are:
A Lean startup philosophy: The learn-build-measure cycle is focused on obtaining quick feedback through contact with real customers/users
Alignments: Create a common goal and joint product for a joint customer experience
Prioritization: Prioritize according to value; always know what that value is
The product component of the CoCreate model utilizes recognizable product delivery planning tools, like PortfolioWall, marketplace, story maps, and roadmaps, throughout the value circle.
4. Culture
The culture of an organization underlies everything and ultimately determines its success. Whether or not employees carry out the processes and roles as intended; whether they stay with the company or move on; whether or not they choose to develop personally and professionally in a way that aligns with the organization's values - these factors are ultimately influenced by the organizational culture.
In a CoCreate organization, the culture stems from five core values:
1. Autonomy versus central control.
2. Shared goals versus incoherent unit-level goals.
3. Team performance versus individual performance.
4. Growth versus maintenance.
5. Want to work versus have to work.
Formal and informal leaders play an important role in creating the culture of an organization, or the so-called "smell of the place." Leaders who are close to the work floor and accessible, provide clear direction and can quickly remove impediments, contribute to the company in unquantifiable ways by improving the overall quality of its culture.
5. Adaption
Adaption covers the change capability of the organization. It is used in the initial transformation
and also continuously. Transformation into a CoCreate model is a radical change. For most organizations, it involves developing and embracing a completely different culture, with structural adjustments and perhaps also personnel changes. The pace of this change is determined primarily by the organization.
A typical transformation roadmap consists of several stages spread over several years. At each stage, change takes place in multiple aspects simultaneously.
There are six distinct change streams:
Organizational design and human resources management
Culture and leadership development
Anchoring, which includes training Agile coaches and Agile champions
Craftsmanship and continuous value delivery
Strategy, product development, and innovation
Performance of Agile tribes; implement the model

in a tribe and customize until it leads to the desired performance.
By default, the organization performs the change. External experts are merely the catalyst who provide knowledge and guidance. Internal staff must be trained to make the change permanent.
A CoCreate transformation involves and depends on the employees. Decisions are delegated to them to create a culture of self-organization.
CoCreate - Your Next Step
The CoCreate model is based on the triple-As:
autonomy, alignment, and agility. Even the name reflects a philosophy of collaboration in its implementation. The model focuses equally on developing value and
people, while performance, growth, products, culture, and adaption are its critical core components.
CoCreate organizes people into chapters, squads, and tribes that are structured around the necessary expertise to deliver value and there is no distinction between business and IT. The role of HR shifts to developing expertise and cultivating cultural change, as culture underlies everything and determines success. In the CoCreate model, culture stems from autonomy,
shared goals, team performance, growth, and intrinsic motivation.
A typical CoCreate transformation roadmap consists of several stages spread over several years, with the change taking place in six distinct streams at each stage. External partners, like Xebia, can catalyze change by providing expertise and guidance. However, ultimately the organization achieves change by developing sound internal change capabilities and a culture of self-organization.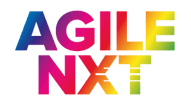 Want to know more about Scaling Agile? Download
and start your personal change tomorrow.