Digital transformation is sweeping the banking industry with permanent, far-reaching changes. The creation of super apps, hyper-personalization, increased focus on customer experience, and heightened competition in the industry has made it imperative for banks to transform legacy processes and infrastructure if they are to remain competitive. But, while the trend to digitalize is pervasive, banks still have a long, long way to go when it comes to achieving their digital goals. This is especially critical as big tech companies foray into the banking space with well-established payment experiences. Think Apple Pay and Google Pay.
According to Forrester, about one-quarter (25%) of decision makers at banks believe that their tech strategy is one of the biggest hurdles in implementing digital transformation programs. Revamping legacy core-banking systems and finding the right people to do the job is not easy either. Another report by Cornerstone Advisors highlights a similar trend with the ability to attract talent and cybersecurity amongst the most significant challenges for banking execs in 2022.
Top Concerns of Banks (2020-2022)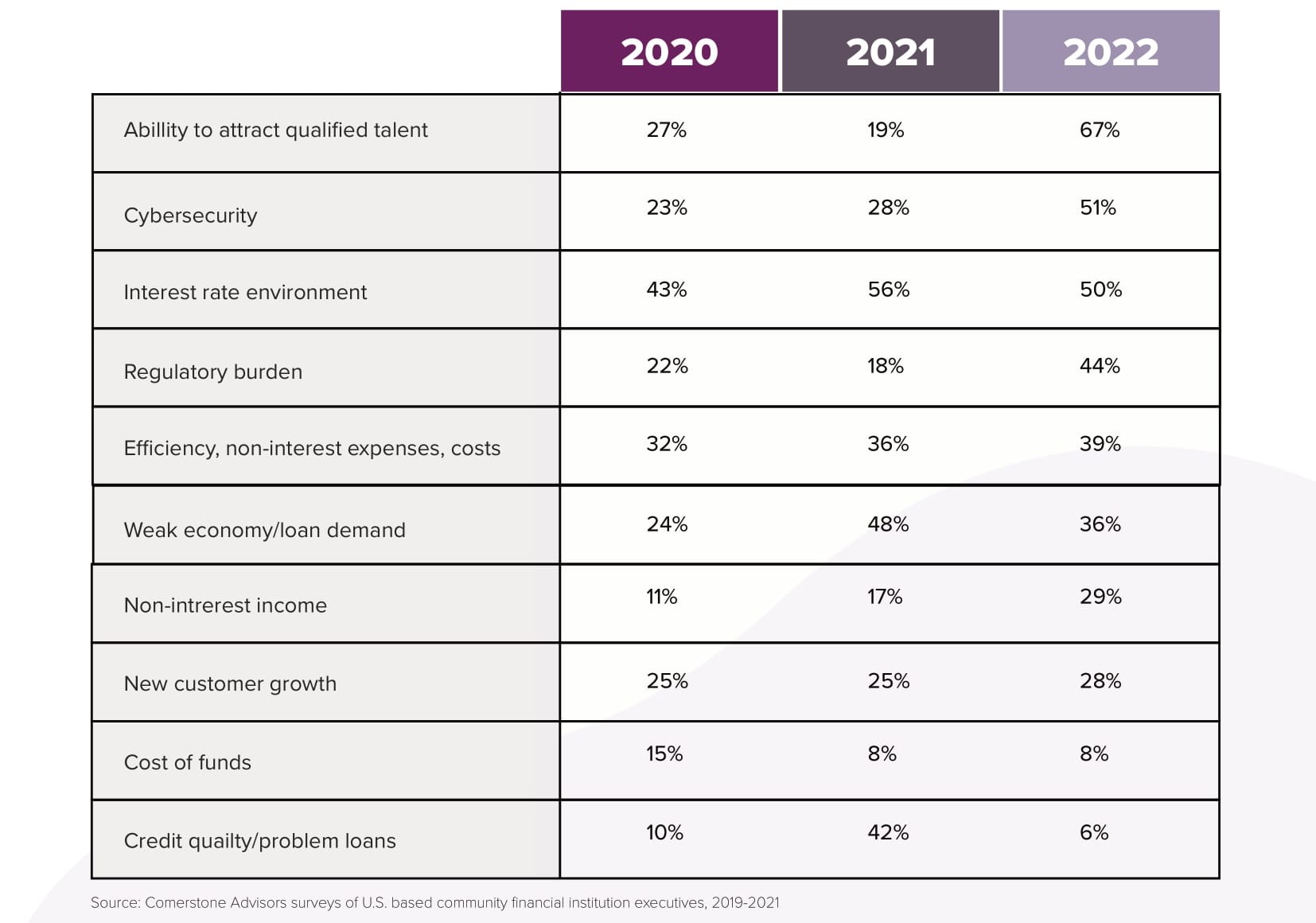 Besides the industry landscape-related concerns, the banking sector faces a significant threat from tech players who are entering their turf. While executives who view the Big Tech players as a significant competition have dropped by about 15% over last year, there is a growing threat from fintech firms who continue to reconfigure the industry. This is interesting given that the increasing demand for rapid digital banking and personalized experiences is transforming how the industry operates.
Competitive Threats for Banks (2021-2022)
Percentage of Bank and Credit Union Executives Who See the Following Types of Companies as Significant Threats in the Coming Decade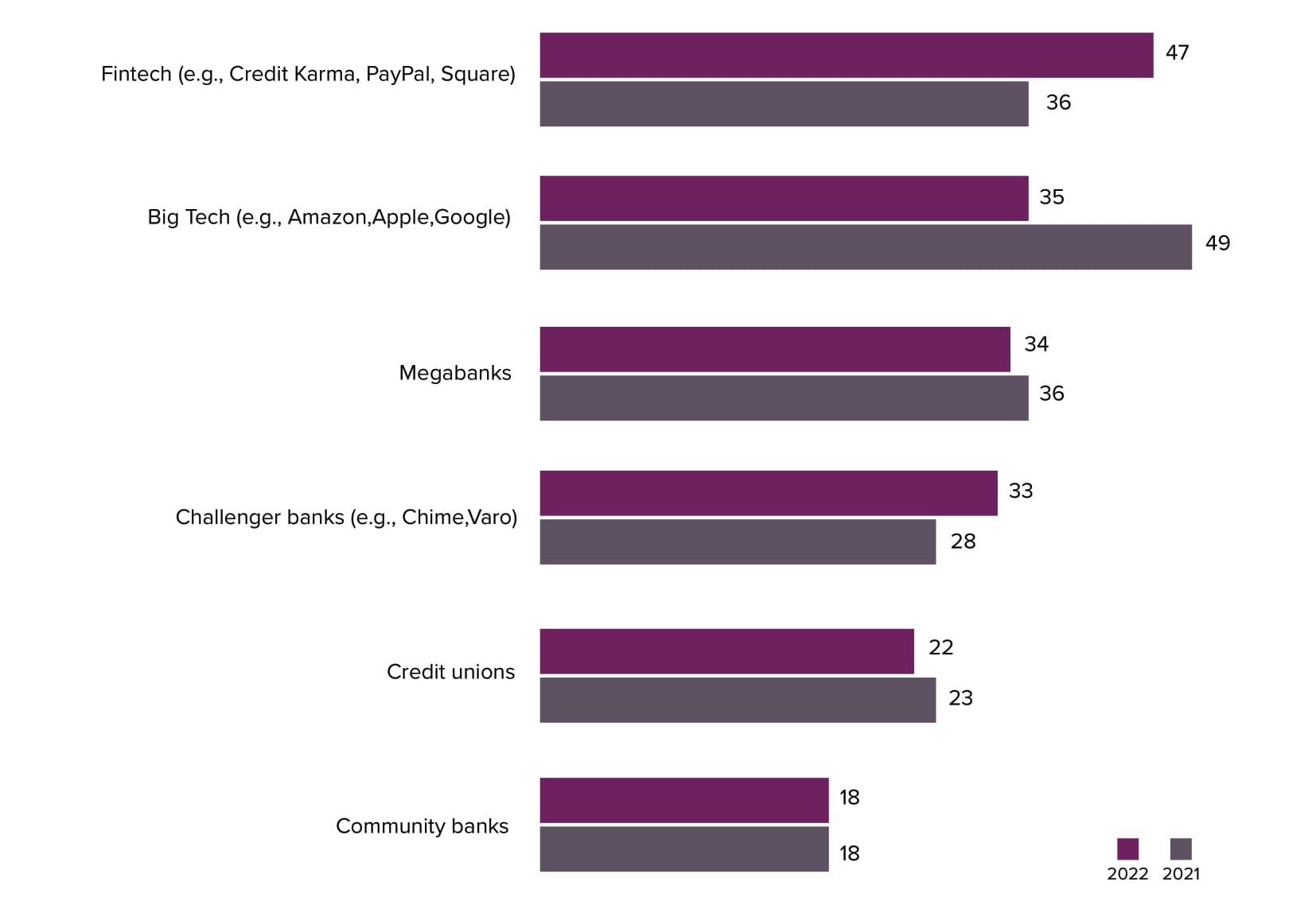 Source: Cornerstone Advisors surveys of U.S. based community financial institution executives, 2020-2021
One of the primary ways that traditional banks are dealing with these challenges and the competitive threat landscape is the increased shift towards digitalization. This is possible given the advancements in banking technologies that are driving this realignment. From retail and mobile banking to fintech players and challenger banks, technology has a major role to play in almost every aspect of the banking landscape. Some of the banking aspects that transformational tech will influence include:
Reimagining customer experience with digital
Delivering hyper-personalized customer experiences
Over-hauling IT systems to meet market demands
Deploying new tech (cloud, analytics, RPA, and AI) to boost productivity
Ensuring the highest degree of security for digital transactions
And as consumers settle into a new normal with the coronavirus pandemic and its variants becoming a part of life, for now, there is increased demand with people beginning to travel and consume more goods and services. And the one secret sauce that will help banks deal with this increase in demand is digital transformation.
Let's look at the key tech trends that are likely to influence and shape the industry in 2022 and beyond.
Online banking still dominates, but mobile banking is growing by leaps. According to Forrester's latest findings, about 71% of adult Americans with a bank account prefer online banking, even though they still visit the branch and ATMs occasionally. This shift to online banking was primarily driven by the pandemic, and because most people continue to work from home. Forrester found that since people working from home are already on a computer all day, it is very convenient to transact online on their bank's portal. The report also finds a significant shift towards mobile banking given the higher convenience and increased investment in application enhancements.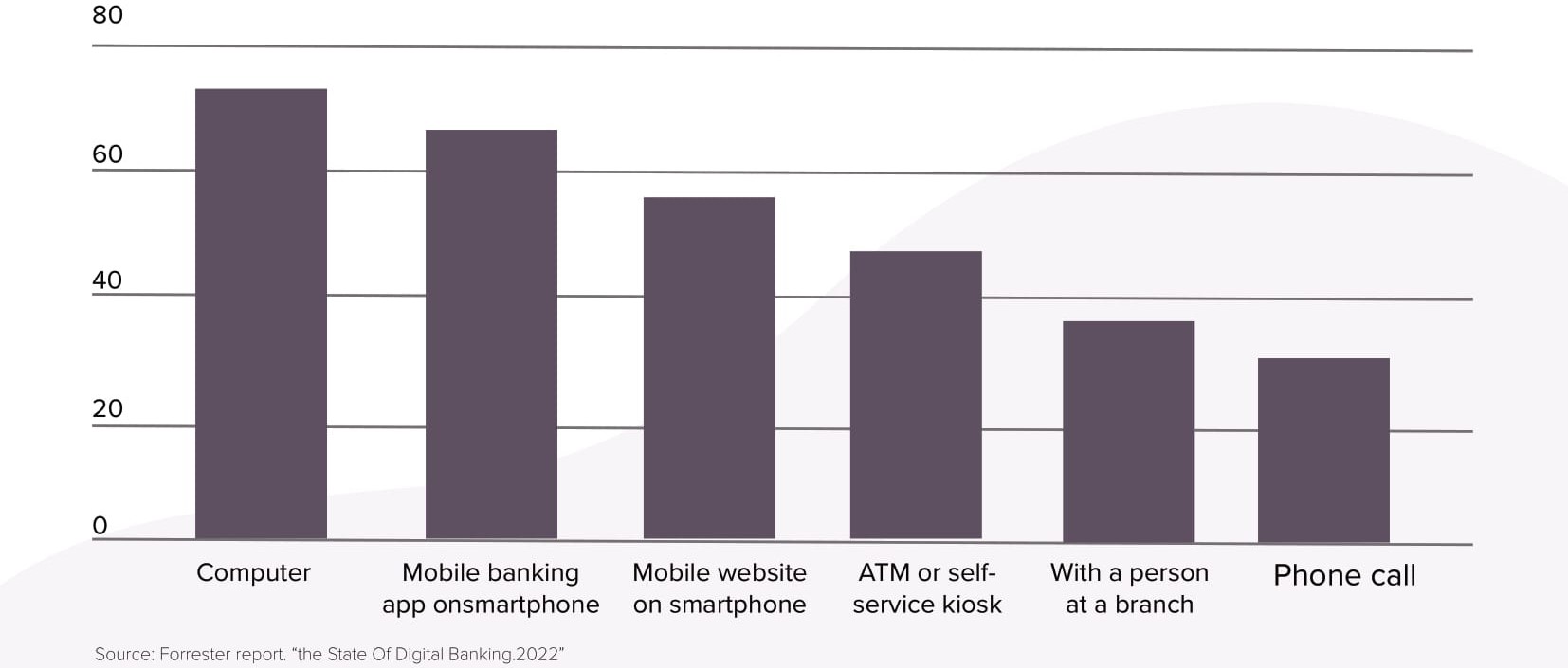 Insider Intelligence says mobile banking is growing in popularity and is registering a growth of 5X over online banking. With the rise of super apps, conversational AI, voice bots, and increased personalization, mobile banking is expected to surpass the online banking statistics with a higher penetration among millennials and Gen Z consumers.
Finding talent to execute DX at banks is a challenge. While digital transformation is high on banks' agenda in the US, many of them still run core operations on legacy systems. Finding the right talent and skillset to maintain these legacy systems is a significant challenge for the industry. And according to McKinsey, "engineering talent is, invariably, skewed toward less experienced, less productive individuals, often as a result of emphasizing cost when negotiating for contract engineering services."
Increased focus on hyper-personalization will drive the next growth spurt. Like OTT platforms such as Netflix and Amazon, banks are increasingly inclined to use customer data to offer niche, highly personalized services to their customers. And digital technologies such as AI and big data analytics will be fundamental to this initiative. Given the highly competitive banking landscape in the US, this hyper-personalization will emerge as a critical differentiator to staying ahead of the market.
Agility is becoming key to driving innovation at an accelerated pace. The heightened competition in the market also leads to the need for highly agile and innovative solutions to address customer needs and maintain the competitive edge. Technologies such as low code platforms, cloud computing, and AI in DevOps are ways that future-focused banks can become nimbler and more adaptable to evolving market dynamics. To that effect, legacy modernization will be a primary focus area for banks to become future-ready. Besides, there will be a keen focus on cost optimization programs to ensure banks' profitability.
The Road Ahead: How Can Banks Ramp Up for the Next Growth Phase
Modern banks in the US or anywhere else operate in a highly fragmented and competitive market and are constantly trying to remain viable and profitable. They must find the right balance between meeting customer demands, implementing technology to improve productivity, having a digital-first approach, and ensuring growth for existing business lines. There is little doubt that banks that do not make this their priority will perish. Yet, while it may be necessary for them to undertake large-scale digital transformation initiatives, the going won't be easy.
Digital transformation initiatives in banks will need high levels of customer-centricity, super apps that resolve customer queries at the click of a button, streamlined back- middle and front-end processes that support hyper-personalization, and powerful data analytics and AI that provides executives with the right information at the right time to make intelligent decisions. That said, the high levels of competition from new-age fintech companies and the Big Tech players make digital transformation a non-negotiable imperative for banks. Especially if they are looking to reimagine customer experiences, offer innovative products and solutions, and become more future-ready.
About Key Technologies
SuperApps
As a result, customers, particularly in the banking space increasingly want an integrated and seamless access to all financial services without having to juggle multiple apps. In response to this, the industry is witnessing a reversal of the trend where stand-alone apps are losing favor to digital onestop-shop for all financial services or – Banking Super Apps.
Conversational AI
Conversational AI solutions enable a computer to have a natural-sounding text conversations with customers. These interactions seem natural to consumers and as if they are having a conversation with another human while there is no human being at the other end.
Conversational Artificial Intelligence uses analytics, machine learning and natural language processing to imitate human conversations. It recognises human conversation tonalitiess and can be trained in multiple languages. Conversational AI can handle any repetitive customer questions, thus eliminating the need of support staff. Besides unlike human staff these can be scaled inifinitely at marginal costs, thus leading to happier customers as there are no wait times.
VoiceBots
Similarly voice AI/ML solutions can enable a business to deploy conversational voicebots to improve the customer experience and engagement. VoiceBots can engage customers with conversations that are human like.
Hyper Personalization
Hyper-personalization uses artificial intelligence (AI) and data analytics to customize the user experience. This includes delivering content or product and service information as per users' previous dgital interactions and information shared earlier. For example a user exploring holiday destinations may be prompted with airline or car rental or hotel information at a travel site.
Legacy Modernization
The older or legacy applications were monolith that is one application comprising of different services for users that could include sayinventory management, invoicing, compliances, CRM, etc. and were run typically from an on-premise data center. Newer digital technologies use microservices and have multiple smaller apps to cater to each service and are typically run on cloud – public or hybrid. This conversion of legacy applications to modern infrastructure to enable agility, scale, cost efficiency, collaboration is called legacy modernization.
Low-Code Platforms
Low code platforms help speed up development by reducing hand coding drastically. Low-code allows simple drag-and drop so developers can create applications visually, resulting in faster time-to-launch.