In my book, "Scrum: The Art of Doing Twice the Work in Half the Time," I explain how Scrum reduces team sizes and breaks down projects into short-term goals, improving speed and quality of work in an immediately visible way. In real-life situations, where complexity exists beyond theory, a scaling framework must be able to demonstrate results.
An excellent example of such scalability is Saab Technologies, which produces the best multi-role fighter aircraft at 20 percent of its competition's costs. After working with hundreds of world-leading companies to improve Scrum in many domains, we expanded it to an organization-wide framework.
This article is published in
. Agile NXT is a new magazine full of inspiration for professionals on the emerging Agile journey. It challenges you to think differently and improve yourself, your team, and company a little more each day.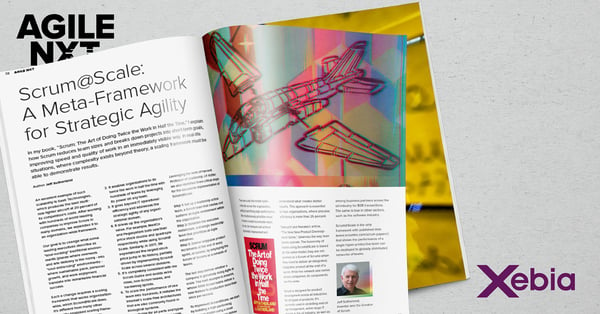 Our goal is to change what some leading executives describe as "soul-sucking" traditional environments (places where overwork and late delivery is the norm) - into "soul-enhancing" environments - where sustainable pace, personal growth, and work enjoyment translate into remarkable financial success.
Such a change requires a scaling framework that works organization-wide, which Scrum@Scale does. It's different from many other currently proposed scaling frameworks in the following ways:
1. It generates cultural change by addressing the organizational structure directly.
2. It enables organizations to do twice the work in half the time with hundreds of teams by leveraging its power on any team.
3. It goes beyond IT operational efficiency and addresses the strategic agility of any organi­zational domain.
4. It drives up the organization's value. For example, MedCo and Pegasystem both saw their price stock double and quadruple respectively while using Scrum@Scale. Similarly, in 2017, 3M experienced the largest stock price jump in its history, partially driven by implementing Scrum@Scale across several divisions.
5. It's completely consistent with the Scrum Guide and avoids extra roles, non-Scrum teams, and hardening sprints.
6. To scale the performance of one team into hundreds, it imitates the internet's scale-free architectures that are also commonly found in biological systems.
7. It's suitable for all parts and types of organizations, including sales, marketing, HR, finance, strategy, research, academia, and both for- and non-profits. Leveraging the work of Harvard Professor of Leadership J.P. Kotter, we also identified three critical steps for the successful implementation of Scrum@Scale:
Step 1: Set up a leadership action team, a Scrum team that creates and sustains an Agile environment within the organization.
Step 2: Establish the executive metaScrum, a strategic leadership team that prioritizes all Agile
initiatives.
Step 3: Deliver shippable product increments at the end of every sprint, or sooner, by employing the Scrum of Scrums as a network of teams.
The last step defines whether a company is genuinely doing Agile at scale. The best example is Amazon, whose 3300 Scrum teams deliver a new feature to production more than once per second.
To implement Scrum@Scale, we start by building a high-performing reference model using a small number of teams that can deliver according to the Scrum Guide. Then we scale this model syste­matically across the organization, without sacrificing high performance. We simultaneously prioritize areas of work in small incremental steps so we can measure and achieve systematic improvement and understand what creates better results. This approach is essential to lean organizations, where process efficiency is more than 25 percent.
Takeuchi and Nonaka's article, "The New New Product Development Game," observes the way lean teams operate. The taxonomy of teams using Scrum@Scale is based on the same model; they are networked as a Scrum of Scrums when they need to deliver an integrated, shippable product at the end of a sprint. While the network size varies across companies, its components are the same.
Scrum is designed for product development across all industries for all types of products. It's currently used in oil drilling and oil rig management, within large IT groups in the oil industry, as well as among business partners across the oil industry for B2B transactions. The same is true in other sectors, such as the software industry.
Scrum@Scale is the only framework with published data (www.scruminc.com/scrum-papers/) that shows the performance of a single hyper-productive team can be deployed to globally distributed networks of teams.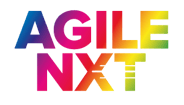 Want to know more about this topic? Download
.