Over the next year, Instruqt will be at major Google conferences around the world. Here's how the collaboration came about.
Have you ever walked into a conference with the hope of learning something new? Then, a few hours later, reality kicks in: You realize all you've really done is waste your time listening to a series of sales pitches. Don't you hate it when that happens? Imagine walking into a different sort of conference, where you see a booth that actually gives you the opportunity to develop new skills while having a good time. Wouldn't that be amazing?
Believe it or not, this is how the idea of Instruqt came about.
We believe learning by doing is the best way to develop new skills. We also believe learning should be fun. So, we built a new platform that combines those beliefs. The result, which we've shared with our fellow engineers, can best be described as a hands-on arcade challenge. When you leave the conference, you've learned new concepts, developed new skills and shared your knowledge with those around you. Exciting? Google agrees.
As of March 2019, Instruqt has been working with Google. The collaboration came about because a developer advocate for Google Cloud Platform (GCP) saw our work at Container Days last year. He loved our concept and immediately pitched the idea to his colleagues. It turns out Google had been looking for a way to engage attendees at Google Cloud Next '19 and wanted a solution that would offer a challenging environment while boosting product adoption. Our interactive learning platform was exactly what they were looking for. We built seven arcade machines powered by the Instruqt platform, while Google built tracks and challenges centered around GCP.
Needless to say, the partnership was a hit. Google organized a booth with all seven arcades, each with a joystick and keyboard, and the crowd loved it. Players were in their element, fully immersed in the gamified "learning by doing" experience. Once people began playing the tracks, it quickly became obvious just how deeply the Instruqt platform engages players and turns them into learning fans.
To offer an indicative measurement, the track completion rate for learning platforms and games is about 7%. Google's tracks were played 1,400 times over the four-day event, with a success rate of 15%. By using the Instruqt platform, Google was able to double players' engagement. Instruqt was killing it at Google Next' 19!
"The vibe around our booth at Google Next '19 was buzzing. People were having an amazing time playing with the arcades. I am excited to share that this initiative was an extreme success for both Google and Instruqt."
–Jefta van der Woerd, Instruqt managing director
But don't turn the page yet—our story doesn't end here. At the end of May, Google approached Instruqt with a new proposal, to create even more fun new ways of interactive learning. So now we're building 13 extra arcades for them. These will be powered up, and ready to play at Google events across Europe, the Middle East, Africa, and Asia. Where do we go from here? The sky's the limit. Many more collaborative projects are in the works. Until we're ready to talk about them, drop by the Google Cloud Platform booth at any upcoming Google conference over the next year to experience our arcades and develop a new skill yourself.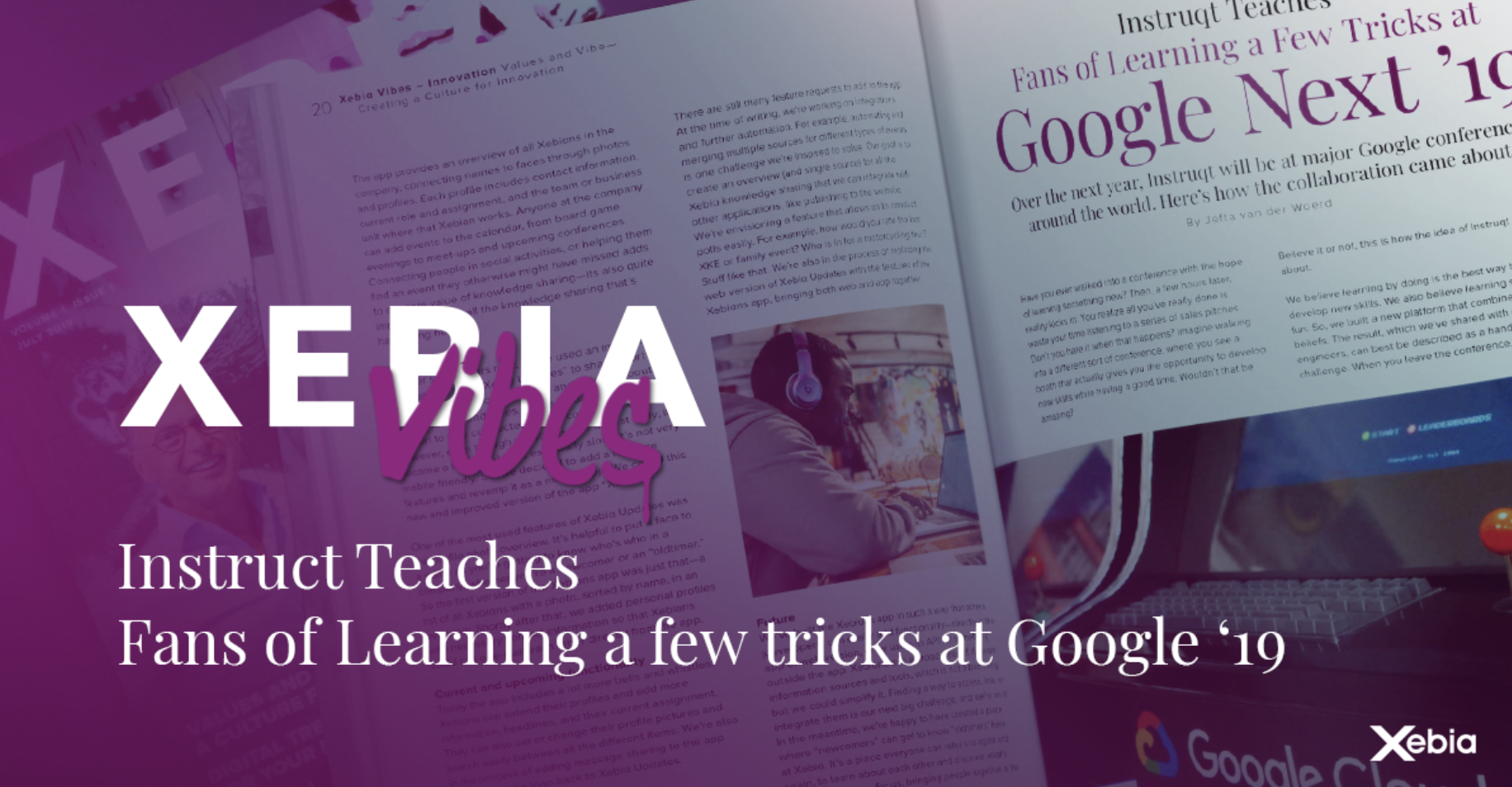 .