The amount of voice searches is growing at a phenomenal rate. The reason is simple: people speak quicker than they type. A US research company (Alpine.AI) estimates that currently, each month sees about 1 trillion spoken search queries taking place on the web. With the more and more Voice Assistant devices such as Amazon's Alexa, Google Home entering the market, and more and more websites supporting voice searches, this type of query will soon become part of our everyday lives.
This means that being found on a website or an app no longer suffices. You will need to investigate the possibilities offered by voice search if you don't want to miss the boat and be caught by big players. It sounds complicated, but it's not. These 3 steps will make your business Voice Search ready!
Step 1: Obtain position #0 on Google and make use of a knowledge bank.
This application is particularly useful if you aren't ready just yet to develop your own Voice Assistant for your platform. Can I even get to the 0 position on Google? Of course you can!
These are also known as Featured Snippets. They provide direct responses to the visitor's search queries which makes them easy to trace by Voice Assistants. The result of the visitor's query is shown at the very top, ahead of even the organic search results. This is why they are assigned the #0 label position. To obtain this position, it is imperative that you demonstrate to Google that you have the answer to the visitor's particular question. This is where a good, structured knowledge bank comes in. Choose a primary category, as well as its subcategories. Then place every article you ever publish into one of these subcategories. This is how you can demonstrate to Google that you are the authority within your industry, and can be trusted to provide it with answers to search queries.
Step 2: Determine the content of the conversation and the search intention
The content of your articles or web shop products should answer your visitor's query as accurately as possible. Both question and answer should appear as early as possible in your article, perhaps even in the title, or in the product information, and subsequently expand this content through elaborate information on the subject. This increases your value to Google and will ensure that your content will be prompted for advise faster by a Google Assistant.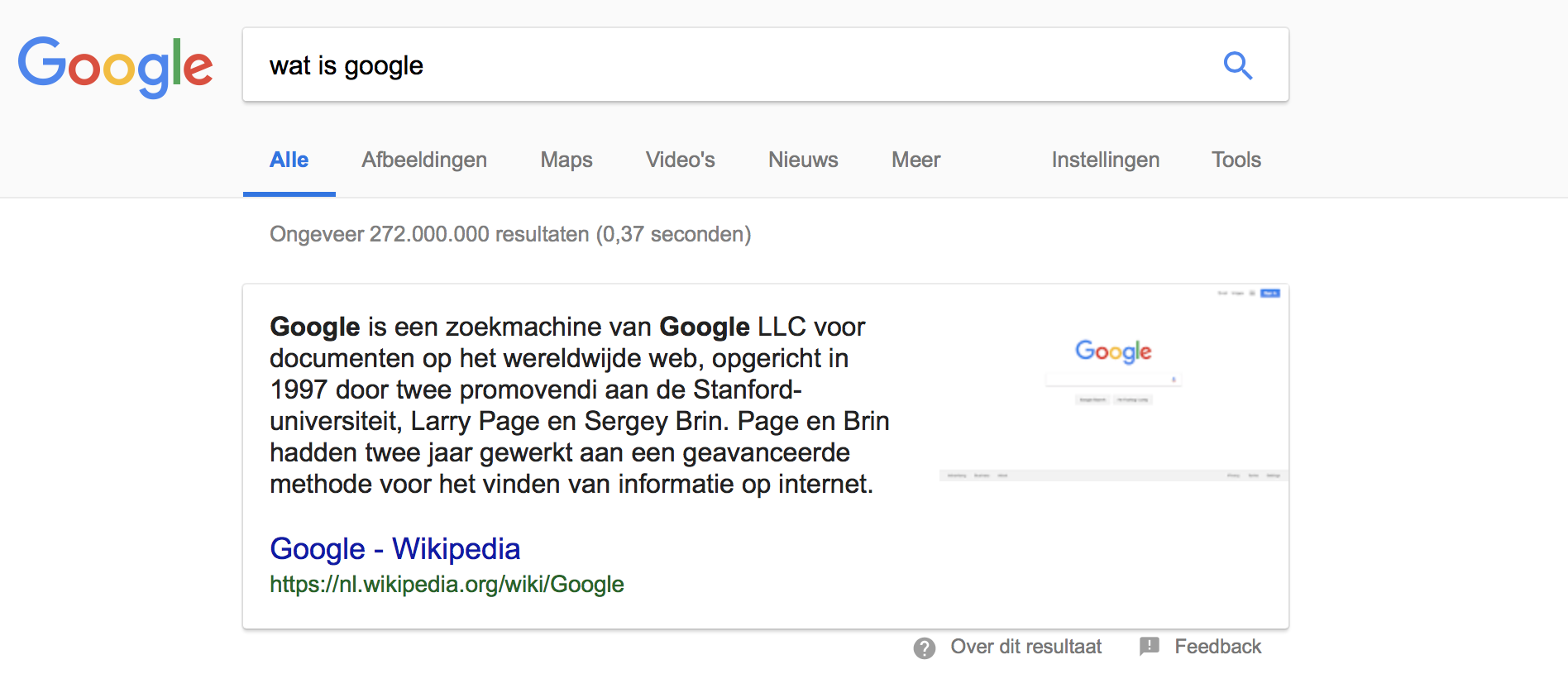 Example of a featured snippet
Step 3: Do you wish to use your own Voice Assistant within your platform? Use the Google Assistant or Amazon Alexa developers kit
Google and Amazon have both created a kit to allow your development team to implement voice search on your platform in no time. These can be easily found by googling or, better yet, asking for: Google Assistant developer kit or Alexa Skills kit.
When drawing up your design, keep in mind the questions that could be asked by users of your platform. Conduct research where necessary, or engage a Conversation Designer to ensure that the interaction with the user feels as natural as possible. Clearly, the content is key to a successful spoken search query. People's searches through speech are more specific and structured than typed searches. They engage with the Assistant in the same way as they would with a friend. I.e.: in a natural way. It is essential that you understand the essence of the search query and make arrangements accordingly.
Would you like to know more about the opportunities a Voice Assistant can offer your business?
Register now for a free hands-on workshop in which we can develop a 'Minimal Viable Assistant' for your organization. Click here to register.