Airport digital transformation is raising the bar for customer experience
Airports today address complex operational challenges with innovative technologies and business models. Planned digital investment builds a profitable business case for them with a keen focus on higher revenues and lower costs. For airports, digital transformation (DX) primarily entails processes and solutions that improve operations and passenger experience. As a process, it enables the integration of systems and services offered by airport partners and airlines across security enforcement, structural maintenance, customs, concessions, luggage handling, wheelchair assistance, food and beverage services, and retail facilities, among others.
While all airports facilitate the movement of passengers and goods, they also have their own unique needs and priorities on DX. For example, for some airports, the attractiveness of digital tech can be in offering single-use case solutions that address the short-term operational challenges they face. In contrast, others may aim to transition to a diametrically different business model.
Broadly though, the key areas where airports focus while driving their digital investments can be categorized into three buckets. The associated transformational goals with them include: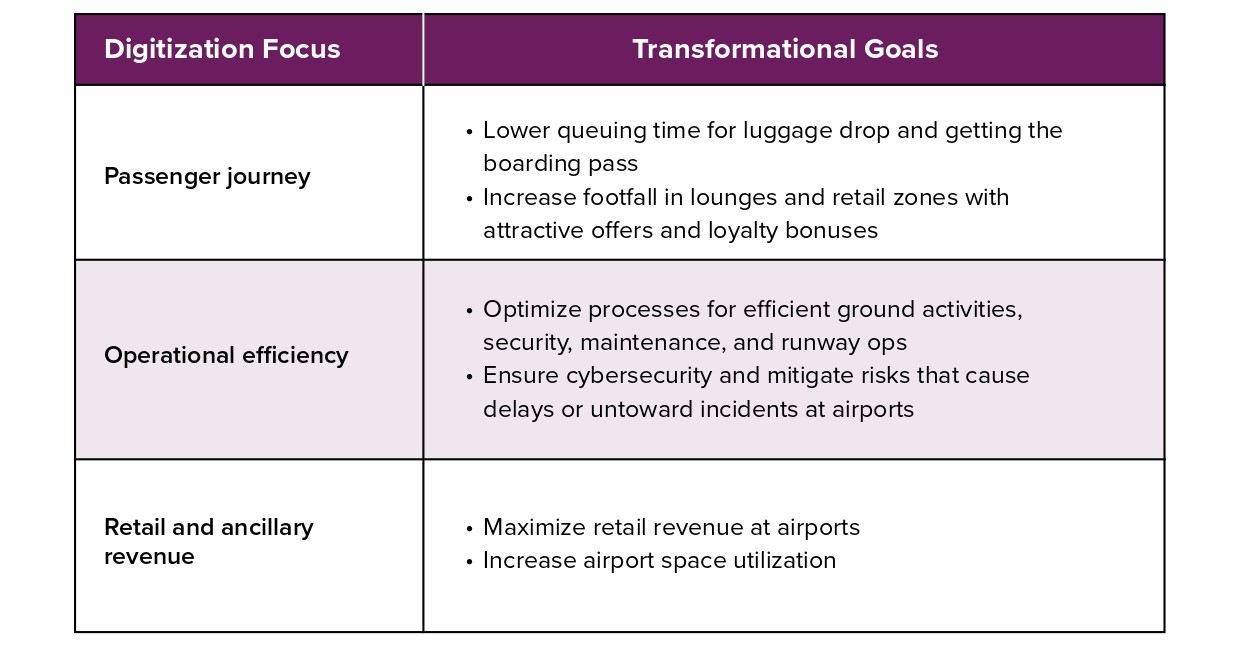 In deploying new tools to innovate their premises and services, airports exhibit different digital maturity levels. While some consider themselves moving away from Airport 2.0 (which reflects self-service and process efficiencies) to the usage of digital for better workflow monitoring and passenger processing (Airport 3.0), it should not hide critical differences between the airports that have begun their journey.
There are marked variations in relative understanding of technologies, the ability to act upon derived insights, and the overall cohesiveness of the airport's DX strategy. The degree to which digitization is perceived to replace against reinforcing existing manual processes also differs and is another indicator of digital maturity.
What's common between airports' DX strategies is that they all are backed by the promise of significantly improved cost efficiencies, optimized service capacities, operational resilience, and better passenger experiences. And airports that want to reach the Airport 4.0 stage, realizing the full potential of DX, must leverage tools and techniques that allow for superior proactivity and reactivity between all stakeholders and help adjust to real-time airport requirements. In this context, the top technologies that will pave the road to airport digitalization include:
The massive data volumes handled by airports today necessitate big data analytics to support process flows, boost productivity, and minimize costs while changing airports' operating models from B2B to B2C. Most analytics solutions used by airports currently pertain to business intelligence that supports performance management and streamlines traffic flow forecasting in short and long-term planning. However, airport managers will soon be able to leverage real-time data inputs to visualize their operations in 3D.
Airports can also utilize the cloud's agility and scalability to respond to changing business demands. Too much IT hardware at airports makes maintenance and upgrades complex because technicians need to access these devices for repairing and reconfiguring them physically. Switching to cloud technology helps to avoid such challenges. For example, the International Air Transport Association (IATA) migrated from an on-premises data center to AWS to initiate projects faster and deliver value at an accelerated pace.
The sheer volume and variety of physical assets in an airport, alongside their value for business continuity, has also invigorated interest in IoT solutions. Airports can focus on developing machine-to-machine and human to-machine interfaces that deliver real-time information on the location and condition of such assets. IoT technologies can be particularly applied in environments where the aim is to enhance process automation, and dependency on existing ways of working is high. An example is the deployment of remote sensors on motorized ground services equipment, such as push-back tractors – an airport can derive real-time details on assets' whereabouts, condition, and performance. The applications support resource management
Collaborative smart machines and robots
Implemented across many airports via pilot projects, robots and intelligent machines are gaining acceptance as permanent parts of airports' infrastructure. A typical zone for such tools' deployment is the check-in area, and the example, in this case, AI-equipped robot Josie Pepper, greets passengers at Munich Airport and answers their questions. It is vital to note that labor expenses will also influence an airport's willingness to supplement its workforce with machines or robots.
Virtual modeling and simulation
As airports try to optimize passenger flows, virtual modeling and simulation technologies can help them anticipate the effect of myriad managerial decisions and allocate staff at different points more efficiently, especially during peak hours. Airport managers are aware that passenger experience at security gates and their willingness to spend at retail outlets of an airport are linked. With this awareness, they can efficiently leverage simulation tech to balance the usage of airport resources with passenger flows. Virtual modeling apps can also help airports to improve flight management by foreseeing the impact of flight delays and optimizing the capacity of runways.
Process automation and integration
Smart integration and automation of their core processes boost the efficacy of airport operations. The convenience of self-check-in, baggage drop, and availability of boarding gate information on a mobile app are some of the simplest solutions airports can provide to optimize and streamline passenger experiences. The deployment of track and trace technologies for passengers to stay aware of their checked-in luggage throughout the journey is another application that will optimize their experience. Besides, integrated airport analytics across siloed systems can be harnessed to drill down, slice, and dice the data to analyze past operations and forecast future performance.
Ready to Take Off?
Passenger volumes at airports are picking up after the pause caused by the pandemic. Meeting new and dynamic passenger expectations cannot be fulfilled with traditional approaches. As against CapEx-intensive projects that take years to materialize, investment in digital technologies helps airports to reap more value from their existing infrastructure in minimum time. With clarity on their goals, strategic partnerships and collaboration, progressive mindsets, and tactical harnessing of digital opportunities, airports can successfully transition to Airport 4.0 and holistically improve their value propositions.
Xebia has helped some of the world's top airports build a clear roadmap to their digital transformation journey with the key objective to improve stakeholder experiences, rationalize operations, and reduce maintenance costs. To know more about how we can help airports achieve their digital transformation goals and aspirations, write to us at Click here to know more about how we can help airports achieve their digital transformation goals and aspirations.