For companies across industries, customer experience is the cumulative outcome of numerous different intermingling processes. Traditionally, these processes have largely been contained in disparate silos. Within this restrictive environment, the customer experience was, by default, an average of the outcomes delivered by each of these siloed functions. The digital transformation wave changed all that.
In the digital era, the pursuit of enhanced customer experience is seeing businesses break the data barriers between functions to achieve a seamless, overarching experience for their customers. And over the years, customers have grown accustomed to this environment. According to a 2020 Salesforce study titled "State of the Connected Customer", 52% of customers expect personalized offers. This has, in turn, resulted in an evolved market consisting of dynamic customer requirements. To cope with such a market demand, businesses need more than a unified processes framework. Today, businesses need to ensure the unification of all customer data at hand to present a single, complete view of the customer – a customer 360.
Customer 360 is not a new concept. Businesses have always strived to get a complete understanding of their customer. Under the pretext of customer 360, businesses can leverage data across customer engagement channels, throughout the entire customer journey. True to its name, customer 360 connects apps and data sources from customer interactions, to give businesses a 360-degree view of their most valuable stakeholders.
Some examples of data types that customer 360 leverages
» Customer demographics
» Customer relationship management (CRM)
» Social media, eCommerce
» Marketing
» Sales
» Customer service
» Mobile apps
Around the same time as the Salesforce study, Harvard Business Review published a whitepaper that revealed 45% of businesses are looking to spend more on their technologies in their pursuit to achieve a single unified view of the customer. While cutting-edge analytics and other advanced technologies and tools are an obvious necessity to achieve this goal, businesses often struggle to effectively implement such a solution, either due to a lack of understanding of the practice or a shortage of adequate technical skills.
To create a customer 360, enterprises must begin by integrating all applications and systems that hold customer information with a common data warehouse. This, in turn, serves as the foundation to build and run a process framework to ingest, clean, validate, and audit the data feeding into the system.
The Importance of a 360-degree View of the Customer
One of the most tempting reasons for companies to adopt a customer 360 approach is the availability of data. Businesses generate large volumes of data – structured and unstructured – every day. Globally speaking, we generate about 5 exabytes of data daily. By 2025, that number will hit 463 exabytes of data per day. That is a staggering volume, especially when we consider that just over a decade ago, the global digital storage capacity capped off at 487 exabytes.
All that an enterprise needs to do is to integrate the different data types, from across a variety of sources to capture a complete view of customers. And the resulting benefits are quite impressive.
Customer loyalty
Customer experiences are more than just rewards. It's about building a community based on trust and loyalty. And as the primary differentiator for brands, it transcends a product's price point or other economic transactions.
This expectation of a good experience evolves, matures, and grows throughout the entire customer journey, from the first contact to the repeated business. According to reports, 73% of consumers will abandon a brand after three or fewer bad experiences. Yet only about 44% of them will complain directly to the company. Which means that the remaining 56% would just leave, taking away thousands, if not millions or billions, of dollars of purchasing capacity.
The metric mentioned above clearly underpins the importance of investing in gathering data for a 360-degree customer view. And since customers prefer to buy from a business that fully caters to them, businesses can retain customers only if they get a product that offers a personalized experience. All of this points to the fact that businesses need to emphasize improving their experience – not just the product – to keep customers loyal. Customers place huge importance on the business delivery of their products and services.
Enhanced predictive analysis
Businesses rely on predictions, such as the expected number of buyers or demand forecasts for a particular product or service, to plan operations in the short-, mid-, and long-term. It is evident that an incorrect analysis could lead to significant problems, such as wastage and shortages of resources.
Customer 360 helps businesses gain access to valuable and reliable information to give the business the foundation and a head start to make more effective, precise, and educated predictions. The large, varied, and comprehensive data availability can help companies not just predict demands. It will also help them understand how likely their customers are to purchase a product or service or how likely their customers are to cancel a purchase or return a product.
Customer 360 can also reveal specific behavioral information and demographic data that could provide businesses with valuable information about user responses and broader customer trends. This in turn will allow businesses to prioritize what's important.
Elimination of data silos
As has been repeatedly demonstrated during the last couple of decades, data siloes can give rise to all kinds of challenges. Even within an organization, stakeholders from different functions may not be completely aware of the data silos. They inevitably end up operating without the relevant data, leading to compromised outputs and inadequate experiences. On the other hand, if stakeholders need specific information and are aware of it, time and resources are lost just in the procurement process.
With customer 360, businesses can dissolve data silos through a connected back end. This will significantly reduce the chances of negative outcomes and gives employees access to the customer data that they need to deliver an impeccable experience.
Roadblocks and Stepping Stones
As mentioned before, there are several hurdles that enterprises and their IT teams must overcome to implement a robust, efficient customer 360 framework. To make the most of customer 360, enterprises must connect their data in a way that allows them to gain high-quality insights that are key to delivering customer delight at every touchpoint of the journey. And that brings us to the elephant in the room: systems disparity and the sheer volume of integrations.
Unfortunately for enterprises that rely on custom codes and traditional integration tools, implementing an effective customer 360 can be a laborious task. What makes this even more challenging is the increasing number of disparate applications. On average, an enterprise has more than 120 applications. While 10% have more than 200. Integrating such a large number of voluminous data sources can be a difficult task given that most enterprises lack the expertise required to build these integrations.
Moreover, legacy custom coded integration practices, which are notorious for their lack of documentation often do not allow reusability of tools and processes in the long-run, stunting scalability.
This is where a customer 360 solution comes into the picture. By adopting a data continuum approach, a customer 360 solution creates a seamless data flow ecosystem as opposed to a fragmented set of silos. This in turn provides businesses with an accurate view of the customer at rapid scale. Customer 360 is built around two key concepts: data governance and automation. The data governance aspect helps businesses access a unified view of critical data units that are stored in siloed applications, often with duplicates. Automation, on the other hand, helps work out siloed data duplicates attributed to a single consumer identity. This in turn feeds into analytics and ML engines to help businesses achieve real-time actionable insights.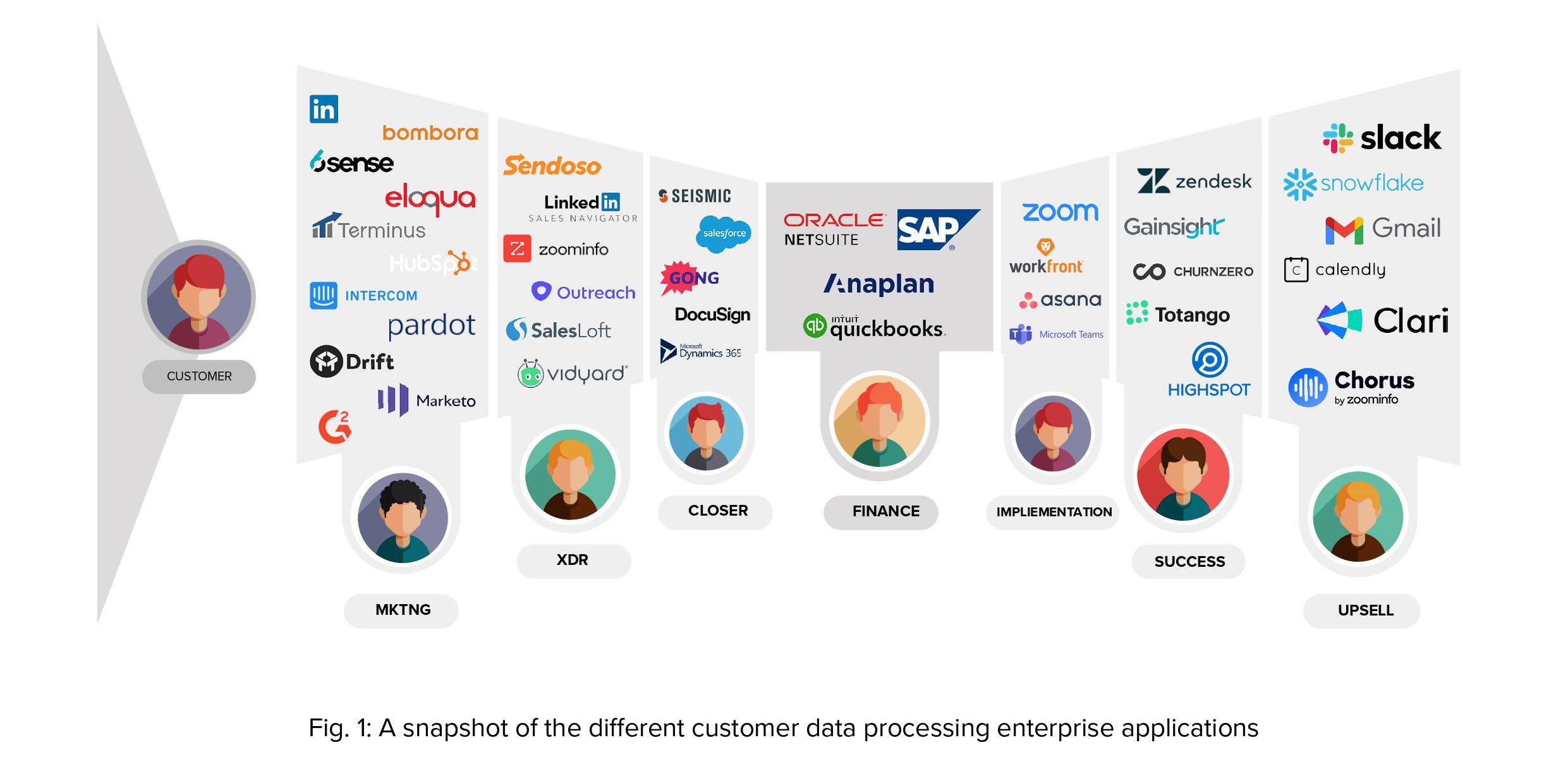 The key features of a customer 360 solution include:
Connect and prepare raw data
Matching the data across numerous data sets
Recognizing, resolving, and relating incoming identity data
Enabling a unified view across silos without having to move data
Providing ready analytics through data visualization
Xebia: A Trusted Partner
Xebia's comprehensive set of full-stack customer 360 solutions provide businesses with real-time access to actionable insights across customer identities. A simple, quick implementation allows for a much faster data ingestion and arrangement into bite sized insight groups. Moreover, the solutions can easily be integrated into existing enterprise applications. Finally, they help businesses view insights over high fidelity visuals and access them from across devices and locations, culminating in the complete customer experience.
Want to know more about how Xebia can help you implement customer 360? Get in touch with us now!