Some form of cloud technology affects most organizations in some way. It has found its way into nearly every industry, and organizations of all sizes.
In this blog post, we share insight and experiences gathered from business professionals. When it comes to the question, "Are you already using the cloud?", 100% of C-suite executives and boardroom strategist unanimously responded "yes," and 60% of the software and application users agreed. Government organizations (50%) and financial services (50%) lag considerably behind on cloud adoption.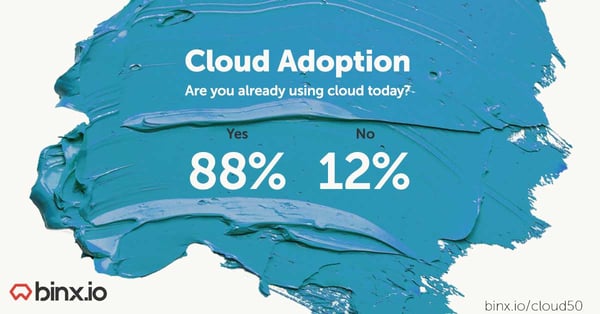 The rate of cloud adoption
The future of cloud technology is bright, as 82% of all organizations that are not yet using the cloud today, indicate that they expect to pivot towards cloud technology within the next five years.
Organizations that have not adopted the cloud yet indicate that this is because of a lack of knowledge (36%) or concerns regarding security and privacy (27%).
Cloud providers and cloud consultants must invest in the education and training of cloud professionals to speed up the rate of cloud adoption.
To speed up the rate of cloud adoption, it is crucial for could providers and cloud consultants to invest in the education and training of cloud professionals.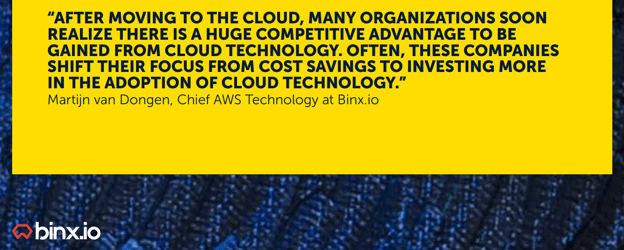 The most popular platforms
The platform(s) of choice differ between roles. Application and software users log in to Google Cloud Platform applications mostly (40%), while developers get their hands-on solutions from Amazon Web Services (71%) and Microsoft Azure (75%). On a strategic level, Azure is the most-used platform (65%), followed by Amazon Web Services (45%), Google Cloud (30%) and IBM Cloud (25%).
Within the IT industry, the top-three look slightly different, with a 66% market share for Azure, 55% market share for AWS and a 30% market share for GCP. IBM Cloud seems to be relatively popular for organizations that are active in banking and investment services (56%).
Organizations that are not using the cloud today are most likely to start using AWS (64%), Azure (55%) or Google Cloud Platform (36%). What stands out is that it's mostly the developers of solutions who have a preference for Google Cloud (50%), over people in other roles (11% average).

This article Cloud Adoption is part of the Cloud Survey. You can download the FREE 2018 Cloud Survey: Dutch Skies report now! For a shared insight from business professionals on every cloud topic - from adoption, obstacles, and multi-cloud strategy to the most popular providers per industry and company size.