Xebia's partnership with Alibaba Cloud offers a business gateway to China's billion-plus market, with speedy transactions and physical and digital infrastructure that frees companies to focus on their core activities.
With over 1.4 billion digital customers, China presents an irresistible market opportunity for international expansion. However, several Western companies have seen their China experiments fail, thanks to a range of singular cultural and regulatory factors. Besides social differences and entirely dissimilar internet platforms, stringent rules and regulations govern business transactions in the country, especially when it comes to e-commerce.
For many companies, the major hurdle concerns software operations in a landscape vastly different from other markets. Google has no access to the Chinese cloud market, while Amazon and Microsoft only have a market share of a few percentage points. Both companies outsource their data centers to Chinese providers that clients cannot communicate with even if something goes wrong. In this scenario, foreign companies looking to reach Chinese consumers while retaining control of their data must necessarily rethink their enterprise architecture.
Fortunately, there are several options, both locally and overseas. Alibaba, China's largest cloud player, has been operating its cloud product from 2012 and now works across 19 regions worldwide. Tencent, the creator of the social platform WeChat, has also had a cloud infrastructure for some time. Others, such as Baidu and Huawei, still focus mainly on the Chinese market. Overall, these companies offer cloud services comparable to those from Google, Amazon, and Microsoft. When paired with low network latency from and to mainland China, the opportunities for expansion into China become apparent.
Xebia is well positioned to help customers break open the Chinese market. Thanks to a close partnership with Alibaba Cloud, Xebia can facilitate quick internet transactions and rigorous data protections while exporting the results of those operations to Europe or the US.
Why Alibaba? What does Alibaba bring to the table?
With a 48% market share, Alibaba Cloud is the infrastructural foundation for many companies in China and overseas. The group also hosts all its own products on Alibaba Cloud, including market leaders such as online marketplaces AliExpress and Tmall, payment provider Alipay and ride-hailing service Didi Chuxing, and Alibaba Cloud's servers have extensive experience with high volumes of daily data traffic. For a dollar value, consider the Double Eleven Singles Day, held on November 11 annually. With nearly 5,00,000 transactions per second, or $30.8 billion dollars' worth of goods on just one day last year, Alibaba companies accounted for nearly half of all transactions last year—more than the US sales figures of Thanksgiving, Black Friday and Cyber Monday combined.
Founded as a business-to-business marketplace in a tiny apartment in Hangzhou in 1999 by Jack Ma and 17 others, Alibaba.com quickly scaled into the group-wide global entity we know today. But it was the Group's 2003 entry into the consumer-to-consumer market with Taobao that laid the foundation for Alibaba Cloud. The traffic generated by a platform where anyone could open their own store required enormous data centers, and once the setup was in place, Alibaba was able to extend those services to other companies—as Amazon does.
Within the Alibaba ecosystem, several group companies can help you get a foot on the ground. Cainiao delivers goods even to remote areas, while Alipay supports convenient payments on a trusted platform. The advertisement network Alimama spotlights your brand and promotional videos can be posted to Youku. Once visibility is established, products can be retailed in a Tmall shopfront, and customers directed to a physical store via Amap. In short, Alibaba's focus on servicing small and medium-size businesses advances an array of services aligned to every functional area.

So how can I use Alibaba Cloud to expand into China?
That answer lies in the technical problem that it can solve. If Chinese citizens access websites outside the country, their traffic passes what's often referred to as The Great Firewall of China. This combination of legislative and technical measures including DNS filtering, deep packet inspection, and IP address blacklisting allows the government to effectively take down foreign websites whose content does not adhere to local regulations. Companies that play by the well-documented rules can continue to operate websites in China – though not all do. Google chose not to, which cost them the Chinese market, but Microsoft's Bing conforms with regulations. Yet, though China's online environment has sparked questions of privacy and data security, fears about government spying remain unfounded. With the right measures around encryption and data governance, working with Chinese cloud products certainly doesn't equal giving away your data.
The issue is one of speed. The Great Firewall's technical constraints considerably slow down websites hosted abroad, especially in the US or Europe. In the e-commerce space, this added latency can be disastrous for business. Even a few seconds' extra load time can drastically reduce conversions and sales figures. Consequently, business volumes may remain low and companies may find themselves in the red even years later, leading to business reevaluations or worse, market exit.
Bringing in a Chinese cloud provider makes the difference between success and total market failure. With dedicated fiber networks from mainland China to the rest of the world, they ensure low latency delivery of internet traffic unaffected by the firewall. As a first cloud experiment, you can use Alibaba Cloud's Content Delivery Network (CDN) to cache product detail pages and images in China. These are created locally and hosted in an overseas Alibaba Cloud region such as Frankfurt. When a Chinese consumer accesses the page, its content is fetched from Frankfurt over Alibaba Cloud's unfiltered backbone, a much faster process than having the user access your website over the public internet. The content is then cached in China for subsequent page views.
Sub-second page loads ensure that no sales are lost due to technical slowness – leading to higher conversion rates and greater sales, freeing businesses to focus on core activities such as product market optimization. Worth noting here is that a different system governs online content cached or hosted within China. While not subject to the firewall, a special permit called an ICP license is required to publish online under a domain name. Obtaining such licenses can be difficult, but experienced companies ease the process considerably.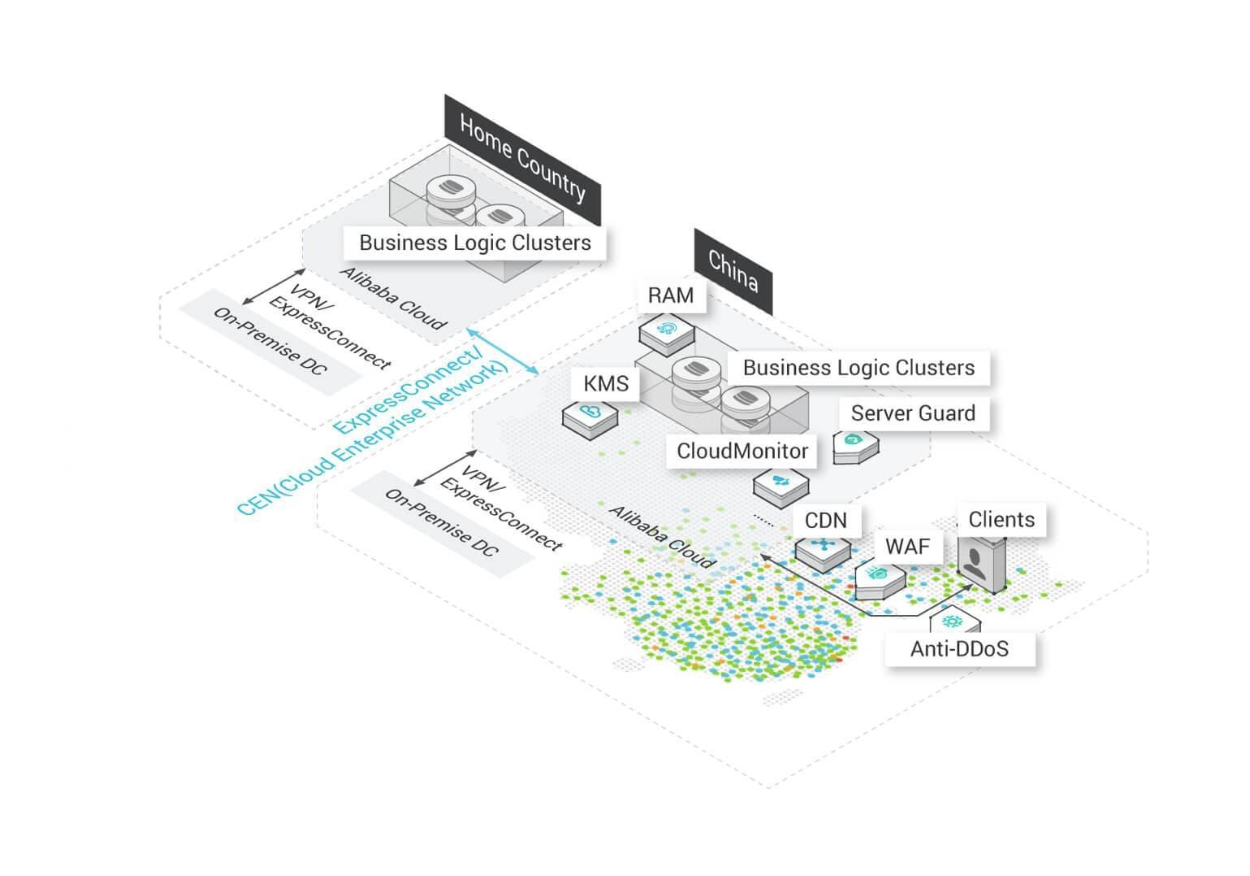 What if I want to expand my Chinese operations?
Once mainland operations are established, working with local cloud operators significantly expands market access. At this point, you'll probably need to gather data about your Chinese customers and transactions. Similar to Europe and the US, personal user information must be processed within China, which obliges local storage and computing power.
Customers already on Alibaba Cloud can easily access the necessary infrastructure to immediately commence development work. For example, provisioning a Kubernetes cluster can schedule computing workloads. Data can reside in petabyte-scale stores that are encrypted at rest and in transit. Alibaba Cloud is fully PCI DSS-compliant and holds the same ISO certifications as cloud providers familiar to international customers. And when it comes to big data, extensive machine learning and AI capabilities can process the information as it comes in, offering the chance to find the next market gap.
Best of all, because Alibaba Cloud resources in any region can be interconnected with each other, the end results can be pushed to Europe or the US. A Chinese cloud provider thus serves as a business gateway to these billion-plus consumers.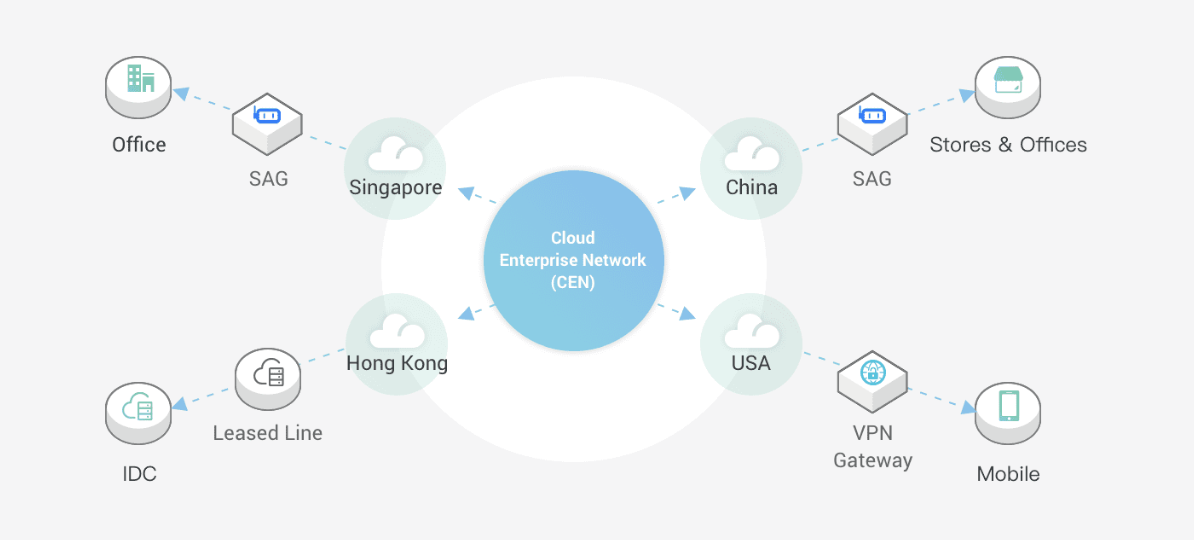 How do I work with Alibaba Cloud?
The easiest way for international companies to establish an operational relationship with Alibaba Cloud is with Xebia. Thanks to its strategic partnership, Xebia enables international companies to build bridges to Chinese customers. Xebia Software Development, a specialist in cloud-native software engineering, and our cloud transformation company, Binx.io, both have the necessary skills to accelerate the implementation of tech stacks on Alibaba Cloud. Knowledge sharing underpins everything we do at Xebia, so anyone willing to understand how Alibaba Cloud works can benefit from our technical know-how at local meetups.
But our love for China extends beyond technology. Xebia Digital Strategy recently took clients on a trip to several important innovation hubs in China. Witnessing the growth and innovation with your own eyes can help to understand the Chinese market better and spark new ways of thinking about the opportunities there. Together with Alibaba Cloud, we at Xebia hope to encourage everyone to look further than volume numbers or catchphrases about China's boom. Together we can bridge the gap, overcome prejudice and explore the real breakthroughs that expansion into China offers you.